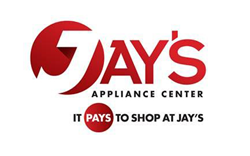 We are extremely excited to be expanding our marketing efforts and kick things off with our Labor Day Weekend Trade-In Sale," states Richard Merhige, President of Jay's
Levittown, NY (PRWEB) August 31, 2015
Jay's Appliances, a leading family-owned discount appliance retailer on Long Island, today announced that the company has expanded its marketing efforts and has retained Vertigo Media Group as its agency of record across multiple marketing disciplines. The retailer will be utilizing Vertigo's expertise to reinvigorate the Jay's brand and build awareness across Long Island and the metro area about the retailer's unparalleled expertise in the appliance industry. Vertigo will lead new advertising, digital and social media, public relations, experiential marketing, search engine optimization and branding strategies to better illustrate to customers why "It Pays to Shop at Jay's." Vertigo will also be redesigning the Jay's website to offer a fresh, more user-friendly experience for customers.
Jay's will be kicking off the new branding campaign on Labor Day Weekend with several new promotional initiatives, including a new limited-time "Swap and Save" trade-in program that will allow customers to save hundreds when they trade in their old appliances between September 4th-7th. In addition, the retailer will be launching monthly events and giveaways starting in September.
Jay's has been serving customers on Long Island and the five boroughs of NYC since 1957. Over the course of almost six decades, Jay's has earned its reputation for high-quality service at a rock-bottom price, a legacy that is acclaimed by the company's devoted following of repeat patrons. As a proud member of a multi-billion dollar buying cooperative of independent retailers with 4000 members nationwide—Jay's has long distinguished itself by offering the industry's best pricing on major household appliances. With this kind of buying power behind them, Jay's is a force to be reckoned with on Long Island.
"We are extremely excited to be expanding our marketing efforts and kick things off with our Labor Day Weekend Trade-In Sale," states Richard Merhige, President of Jay's. "We have been exceeding our customers' expectations for the past six decades and look forward to doing so for another six."
Vertigo's role will be to establish the company's brand presence on Long Island and continue the legacy the retailer has built for years to come. Jay's is here to stay!
About Jay's Appliances
For nearly six decades, Jay's Appliances of Levittown has been making it easy for Long Island families to afford quality, top-name appliances. A family-owned store with the buying power of a major buying cooperative behind it, Jay's has been serving the hard-working Long Island community since 1957. Today, Jay's enjoys a huge following of repeat patrons who keep coming back for the unbeatable prices, state-of-the-art kitchen displays, and high level of customer care.
An authorized dealer of quality brands such as Bosch, Amana, Whirlpool, Weber, Maytag, GE, Frigidaire, Electrolux, Samsung, LG, and KitchenAid, Jay's is one of the area's only retailers with an exclusive focus on appliances. The company is built on a philosophy that puts the customer first, and shoppers at Jay's often deal directly with the owners, brothers Richard and Gary Merhige. The Merhiges encourage all customers to shop around: Jay's will beat any competitor's price. With unbeatable warranties and 0% financing available with the Jay's credit card, it truly pays to shop at Jay's. For further information visit: http://www.jaysappliances.com.
PR Contact:
Monique Merhige
Public Relations Director
516-882-5030, ext. 2711
Vertigo Media Group
monique(at)vertigomediagrp.com