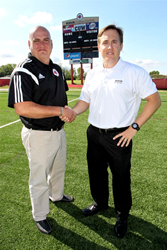 Kohler, Wis. (PRWEB) August 28, 2015
KOHLER® Engines is excited to announce a new partnership with Milwaukee Kickers Soccer Club, one of the largest and most respected youth soccer organizations in the country. The multi-year sponsorship, which took effect August 1, 2015, includes the naming rights of Uihlein Soccer Park's Stadium in Milwaukee, Wis. The newly named "KOHLER Engines Stadium" seats 3,000 people and hosts a number of major tournaments each year including the WIAA Boys and Girls High School State Soccer Championships.
With the new sponsorship, KOHLER Engines will be supporting the largest non-profit youth soccer program in the state. The Milwaukee Kickers serves the needs of more than 6,000 families in the greater Milwaukee area, including the families of many KOHLER employees.
"We're pleased to be working with the Milwaukee Kickers organization and we're excited about seeing our brand highlighted at Uihlein Soccer Park," said Brian Melka, president of KOHLER Engines. "This is an ideal partnership for us because KOHLER Engines makes products that are targeted to – and widely utilized by – the families who pack the stands at Uihlein as well as the professionals who attend to the park's well-manicured fields."
KOHLER Engines, a division of Kohler Co., is a leading manufacturer of gasoline and diesel engines. The company's engines have a strong commercial heritage and power equipment that maintains some of the greatest sports venues in the world. However, KOHLER Engines are also widely available in outdoor power equipment commonly used by homeowners, including lawn mowers, pressure washers, log splitters, tillers, and more.
"We're thrilled to have the support of KOHLER Engines," said Alvaro Garcia-Velez, executive director of the Milwaukee Kickers. "KOHLER Engines Stadium will be widely utilized by our Milwaukee Kickers' teams and it will also host rugby, field hockey, lacrosse, and football teams that play at the local, regional, national, and international levels. So, the generosity of KOHLER Engines will directly benefit many thousands of athletes as well as fans both here in Wisconsin and beyond."
About KOHLER Engines
KOHLER Engines was founded more than 90 years ago and has continually enhanced its product lineup in an effort to help make life easier and more profitable for end users around the globe. KOHLER Engines offers a full array of gaseous, gasoline and diesel engines – up to 134 hp. – which are supplied to equipment manufacturers worldwide in the lawn and garden, commercial and industrial, agricultural and construction markets. To learn more, visit http://www.KohlerEngines.com, http://www.facebook.com/kohlerengines or twitter.com/kohlerengines.
About Kohler Co.
Founded in 1873 and headquartered in Kohler, Wis., Kohler Co. is one of America's oldest and largest privately held companies. With more than 50 manufacturing locations worldwide, Kohler is a global leader in the manufacture of kitchen and bath products; engine and power systems; premier furniture, cabinetry and tile; and owner/operator of two of the world's finest five-start hospitality and golf resort destinations in Kohler and St Andrews, Scotland. For more details, please visit KOHLER.com.
About Milwaukee Kickers Soccer
Milwaukee Kickers Soccer Club, a nonprofit organization and unifying force in the community, strives to enrich the lives of adults and youth in the Greater Milwaukee Area by providing soccer to everyone no matter their size, shape, gender, race, or socioeconomic status. The club serves nearly 6,000 youth members through recreational and select teams in 15 regions across Southeastern Wisconsin each year, and is committed to ensuring everyone can continue to play soccer while instilling a lifelong passion for the game.