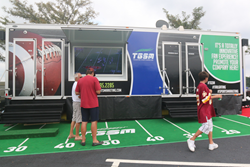 The biggest question asked over and over again was, 'Will you be here for the season? This is so awesome!' With that kind of excitement, we cannot wait to get back to FedEx Field on September 3rd.
Charlotte, NC (PRWEB) September 01, 2015
Tailgating Sports Marketing, LLC set up their Digital Interactive Restroom Trailer inside the Redskins Tailgating Red Zone on August 20, 2015 to take the fan tailgating experience to the next level. The newly expanded and improved Tailgating Red Zone includes over four thousand oversized spots for tailgating. Two thousand plus fans packed the new lot to tailgate before the Washington Redskins faced off against the Detroit Lions in their first, preseason home game. There, fans were blown away by the Tailgating Sports Marketing trailer, a unique marketing activation that combines luxury restroom facilities with digital interactive media elements.
"Our first event inside the Red Zone was extremely successful," says Tailgating Sports Marketing President & COO, Teri Pahon. "It started with Redskins fans telling us they had heard about this really cool unit and fan experience that debuted at the international soccer game a few weeks back, and they wanted to see it for themselves. When they came out laughing and having a great time, they were showing us their photos and videos they took inside and started posting them on Facebook, Instagram, and making fun comments on Twitter. The biggest question asked over and over again was, 'Will you be here for the season? This is so awesome!' With that kind of excitement, we cannot wait to get back to FedEx Field on September 3rd. We are looking forward to a great season in the Red Zone and sharing this digital interactive restroom experience with more fans!"
Over 51,000 football fans headed out to FedEx Field on August 20, 2015 for the 7:30 pm preseason game - Washington Redskins vs. Detroit Lions. Fans arrived early to get psyched, setting up tailgates throughout the stadium's lots. Hardcore Redskins fans headed into the Red Zone, a new lot in 2015 dedicated to enhancing the fan tailgating experience. There, Tailgating Sports Marketing set up their Digital Interactive Restroom Trailer as a core feature of the improved facilities.
The Tailgating Sports Marketing trailer offered fans luxury restrooms, along with a one-of-a-kind digital interactive media experience that included multi-media screens, interactive gaming like the Aim & Shoot men's urinals, Wi-Fi, live event satellite coverage, and more. Outside the trailer, Tailgating Sports Marketing setup their own tailgating zone with tables, chairs, and music to draw fans into the trailer, and watch events on the unit's exterior screen.
The Digital Interactive Restroom Trailer was a huge hit. Those tailgating outside of the Red Zone made their way over to check it out, along with the Redskins Cheerleaders, and Vice President of the Washington Redskins. Hundreds of guests stepped inside the unit, and walked away raving about it – flooding social media with photos, videos, and comments about their experience. Staff members from FedEx Field also came out to enjoy the trailer after fans had gone into the game, noting they "had to see the restroom."
Tailgating Sports Marketing is looking forward to heading back to FedEx Field on September 3, 2015. Taking it up another level, at future events TGSM will be adding a selfie kiosk booth, additional gaming, brand ambassadors for advertisers/sponsors, body painting with team colors, and more to their section of the Red Zone. They will also be holding a party; details will be released shortly.
For more information on the digital interactive restroom trailers from Tailgating Sports Marketing, please contact TGSM at 888-995-2285. The company is currently seeking a select number of additional venues for the 2015 season, as well as a limited number of advertising opportunities for companies wishing to capitalize on the high ROI offered by this immersive restroom advertising experience.
# # #
About Tailgating Sports Marketing:
Tailgating Sports Marketing was established to provide stadiums, festivals, tailgating associations, concerts, and other events a fresh alternative to temporary restroom facilities. TGSM offers a state-of-the-art, fully interactive restroom trailer designed as an interactive engagement activation experience. Restrooms feature HD digital displays, interactive media display triggers, and mobile device gaming. Aimed at providing guests an unforgettable, comfortable and unique restroom experience, the units are also lucrative revenue opportunities for venue owners, sponsors and advertisers.
For more information, visit http://www.TailgatingSportsMarketing.com.