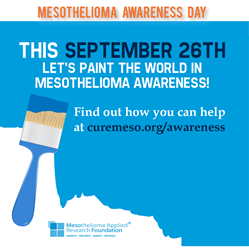 One of the ways a person can be involved is by wearing blue t-shirts, and in general to make sure they keep blue as the central color of their themes as they raise awareness in person and virtually
Alexandria, VA (PRWEB) August 31, 2015
For 12 years, since 2004, the Mesothelioma Applied Research Foundation (Meso Foundation) and its supporters have acknowledged September 26th as Mesothelioma Awareness Day. On this day, and in the weeks leading up to it, the Meso Foundation is providing interested allies with several ways of becoming involved and helping the cause.
"One of the ways a person can be involved is by wearing blue t-shirts, and in general to make sure they keep blue as the central color of their themes as they raise awareness in person and virtually," said Maja Belamaric, Meso Foundation's director of communications.
"The idea is to portray visually with the color blue the concept of awareness as it widens its reach," she added.
Photos of groups wearing blue on or around Mesothelioma Awareness Day should be emailed to mbelamaric(at)curemeso(dot)org or posted on the organization's Facebook page at http://www.facebook.com/curemeso.
In addition, the Meso Foundation will host two events on September 26th in New York City. The first one involves gathering on Rockefeller Plaza for a cameo on the Today show. Immediately following, at 9:30 am, the Foundation will be the host of a medical conference on malignant mesothelioma at Memorial Sloan Kettering Cancer Center, geared toward patients, their families, medical professionals, and other interested advocates. More information about the conference is available at http://www.curemeso.org/ny15.
Other ways to be involved include organizing fundraising events across the country benefiting the Meso Foundation, and contacting media outlets with requests to cover awareness efforts.
Mesothelioma is a malignant tumor of the lining of the lung, abdomen, or heart known to be caused by exposure to asbestos. Medical experts consider it one of the most aggressive and deadly of all cancers. An estimated one-third of those who develop mesothelioma were exposed while serving in the Navy or working in shipyards.
ABOUT THE MESOTHELIOMA APPLIED RESEARCH FOUNDATION
The Meso Foundation is the only 501(c)3 non-profit organization dedicated to eradicating mesothelioma and easing the suffering caused by this cancer. The Meso Foundation actively seeks philanthropic support to fund peer-reviewed mesothelioma research; provide patient support services and education; and advocate Congress for increased federal funding for mesothelioma research. The Meso Foundation is the only non-government funder of peer reviewed scientific research to establish effective treatments for mesothelioma and, ultimately, a cure for this extremely aggressive cancer. To date, the Foundation has awarded over $9 million to research. More information is available at http://www.curemeso.org.
###