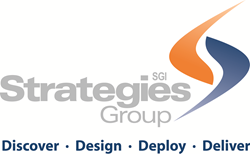 As the construction technology market continues to change, our team determined the best platform to allow tomorrow's industry leaders to achieve scale and exceptional project delivery is Spectrum Software.
Atlanta, GA (PRWEB) October 08, 2015
Strategies Group, Inc., a leading software consulting firm in the construction industry, is pleased to announce a business partnership with Seattle-based Dexter + Chaney, providers of Spectrum® Construction Software. Strategies Group will offer Spectrum Software to clients in Georgia, northern Florida, Louisiana, South Carolina, Alabama, Tennessee, Mississippi and Arkansas.
"Over the past thirty years, the Strategies Group team has supported over 2,000 construction clients across the Southeast. Our mission is simple, we help our clients find, implement and optimize technology solutions that allow them to grow and prosper," said Randy Collins, President of Strategies Group. "As the construction technology market continues to change, our team determined the best platform to allow tomorrow's industry leaders to achieve scale and exceptional project delivery is Spectrum Software. We believe Spectrum is the next generation of construction software because it is the first and only fully-functional, browser-based platform that offers robust job cost accounting and operations management. The platform also allows for better integration to the products that are changing in our industry today."
Strategies Group is a construction software and technology consulting firm that combines business management best practices with technology implementation solutions to increase efficiency and streamline activities for companies in the construction industry. The firm was founded in 1992 by Pat Chappell, who recently rejoined the team. In 2000, Collins purchased the company and has been instrumental in helping the company grow during the past 15 years. Industry veteran Ron Smith, with over 30 years of experience, recently joined the company as a partner.
The Spectrum product was developed by Dexter + Chaney, a software company that has been dedicated to the construction industry for more than 34 years. The firm was founded in 1981 by two CPAs—John Chaney and Mark Dexter—who were providing consulting services for construction projects. They have combined three decades of industry knowledge with current software technology platforms to produce the Spectrum product line.
Dexter + Chaney also invests 19 percent per year into research and development (R&D). The industry average for R&D is 6 to 7 percent, so Spectrum Construction Software benefits from approximately three times more investment in improving and refining the software than their competitors' systems. Also, Dexter + Chaney seeks input and suggestions from their client base and users group to continue to improve and refine the Spectrum system.
"After conducting extensive research into the best options for their clients, Strategies Group selected Spectrum Construction Software," said Dexter + Chaney President Norbert Orth. "As a former leading Sage/Timberline reseller for more than 20 years, their transition to the Spectrum platform is a positive endorsement for our system and a validation of our mission to not only keep up with emerging technologies but to anticipate and innovate for the future."
The core of the Spectrum Construction Software platform is Spectrum Accounting. Designed specifically for the construction industry, Spectrum adapts to the way construction firms do business. The accounting construction software helps users manage job cost from start to finish, keep cash flow positive with fast and accurate progress or time and materials billing, streamline invoice approval process, simplify payroll processing, and much more.
"Our mission is to offer the best software solutions for our clients," said Collins. "While Dexter + Chaney currently serves more than 1,000 construction companies, they may well be the best kept secret in the construction technology marketplace. In our opinion, they offer a superior system with true web-based technology and R&D at three times the industry average. When you combine their system with our award-winning local support to discover, design, deploy and deliver the right solution, we offer an incredible partnership to boost our clients' construction business to the next level."
Strategies Group and Dexter + Chaney will be conducting the Spectrum Tour, a travelling road show, to introduce the software to clients in the Southeast. The tour will be conducted from October 20 – 23 with stops in Charleston, SC and Atlanta, GA. The tour will continue November 16 – 20 with stops in Nashville, TN, Birmingham, AL and Baton Rouge, LA. For more information, please visit http://www.strategiesgroup.com.
ABOUT DEXTER + CHANEY:
Dexter + Chaney has been providing complete construction management software for more than 34 years. From the office to the field, from accounting to project management, Dexter + Chaney software is used by more than 1,000 companies. Their clients come from all segments of the industry—heavy/highway and utility, general contractors, electrical, mechanical, and specialty subcontractors—and are companies of all sizes, from locally-owned subcontractors to some of the world's largest construction firms. Dexter + Chaney's web-based software applications allow customers to get work done anywhere using any device with a web browser and without the need to download any software. For more information about Dexter + Chaney's products and services, contact Wayne Newitts, Marketing Director, Dexter + Chaney, 9700 Lake City Way NE, Seattle, WA, 98115-2347; phone: 800-875-1400; e-mail: info(at)dexterchaney(dot)com; web: http://www.dexterchaney.com.
ABOUT STRATEGIES GROUP:
Strategies Group is a leading provider of software business solutions for the construction industry having assisted more than 2,000 construction companies implement new solutions. Founded in 1992, Strategies Group is based in the metro Atlanta area with offices in Pensacola, FL and Charleston, SC. Strategies Group has been the recipient of numerous industry software awards and has been chosen as a top 100 Value Added Reseller by Accounting Technology Today magazine for three consecutive years. For more information about Strategies Group, contact Randy Collins, President, 2180 Satellite Boulevard, Suite 400, Duluth, GA 30097; phone: 678-684-1170; web: http://www.strategiesgroup.com.