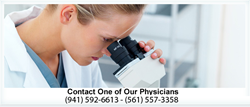 FUTURE MEDICINE TODAY
Wellinton, Florida (PRWEB) September 02, 2015
The wet form of macular degeneration, although serious, has been treated and managed with the use of special anti-vascular endothelial growth factor agents given by injection into the eye. Dry macular degeneration (AMD) which occurs in many more patients, currently does not have a scientific protocol for the many millions diagnosed with it. AMD usually starts in older age groups, but can occur in younger adults.
Patients diagnosed with AMD are evaluated by a retina specialist with optical coherence tomography (OCT) and fluorescent eye studies. The damage in AMD may involve the retina pigmented epithelial cells (RPE); to the rods and cones; and retinal neurons. Scientists feel that a neuro connection between the stem cells and host occurs in which the photoreceptores are restored.
The protocol focuses on treating AMD as a neuroinflammatory disease. The treatment consists of the administration of retina pigmented epithelial cells, optic neuron stem cells and autologous bone marrow derived mesenchymal stem cells. These are delivered to the subretina space or if the vitreous is used, the cells are delivered by a special vector.
A genetic form of macular degeneration called Stargardt Disease starts in early childhood and can lead to blindness before twelve years of age. We treat Stargardt Disease with a combination of gene therapy (knocking out the abnormal gene mutation with a special shRNA agent and then inserting the normal gene with a vector) in combination with RPE, optic neuron stem cells and mesenchymal stem cells.
The treatments are performed by a team of experts including a retina specialist. Please contact Dr.Burton Feinerman at 561-557-3358 or by email at bfeinermanstemcells(at)gmail(dot)com for further information or visit http://www.stemcellgeneticmed.com.