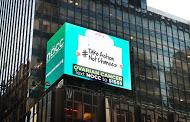 Text "NOCC" to 51555 for campaign information to be sent to your mobile device.
Dallas, TX (PRWEB) August 31, 2015
Now through October 31st, the National Ovarian Cancer Coalition's EARLIER Awareness campaign, TAKE ACTION. NOT CHANCES. (SM) will be featured on a digital screen projected above New York's Times Square, on the 1500 Broadway building. The eye-catching campaign image is designed to inspire and promote earlier awareness of the symptoms of ovarian cancer, and earlier conversations with doctors. This campaign and the vision of the NOCC's new EARLIER Awareness Initiative (SM) were created in partnership with a member of the NOCC community. To read more about "Cathy's Story" follow this link.
TAKE ACTION. NOT CHANCES. (SM) campaign information and resources can be found at http://www.ovarian.org/earlierawareness. The site offers easy to share resources, including posters to download and post in doctors' offices and public venues. By texting "NOCC" to 51555, a link to the website will be sent to your mobile device. Connect with NOCC about the campaign and join the engagement on social media by posting, sharing, commenting and liking.
Ovarian cancer continues to be the deadliest of all gynecologic cancers. According to the American Cancer Society, a woman's risk of getting ovarian cancer in her lifetime is approximately 1 in 75. This year it is estimated that approximately 22,000 women will receive a new diagnosis of ovarian cancer, and 14,000 will die.
There is no test to detect ovarian cancer. A Pap test does not detect the disease. There are symptoms, which can be subtle, that can mimic those of unrelated conditions. For these reasons, the diagnosis of ovarian cancer most often occurs in later stages of the disease, when the prognosis is poor.
However, if diagnosed early, ovarian cancer is treatable. The key to earlier diagnosis is awareness. It is imperative that the signs and symptoms of ovarian cancer are recognized and considered, not only by women, but by their loved ones and healthcare providers as well.
Common symptoms of ovarian cancer include bloating or sudden weight gain, abdominal pain, difficulty eating or feeling full quickly, and feeling the need to urinate urgently or often. It is recommended that a woman who experiences symptoms that persist for more than two weeks should see her doctor and a gynecologic oncologist if ovarian cancer is suspected.
This September tens of thousands will participate in NOCC Run/Walks and other events throughout the country, dress and decorate in teal, learn the symptoms and risk factors of the disease, and use social media to share information and images that have the potential to save a life. You can help spread the word about ovarian cancer, celebrate Survivors, and remember those lost to this insidious disease. For details about NOCC events nationwide, please click here.
###
About the National Ovarian Cancer Coalition
For nearly 25 years, the NOCC has been committed to raising awareness, promoting education, and funding research in support of women, families, and communities touched by ovarian cancer. NOCC is well-established as an important national advocate for patients and families struggling with ovarian cancer. NOCC remains steadfast in its Mission to save lives by fighting tirelessly to prevent and cure ovarian cancer, and to improve the quality of life for survivors. For more information, please visit http://www.ovarian.org and follow us on Facebook, Twitter, Instagram, Pinterest, and YouTube.