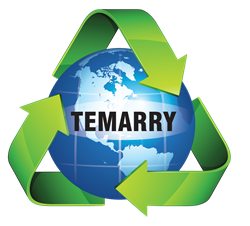 In addition to making the waste to energy process more efficient, the reduction in the use of natural resources and improved sustainability was a primary concern.
(PRWEB) September 02, 2015
Temarry Recycling's new $100,000 waste to energy capital project renovation will improve efficiency of their entire waste to energy process and continue to contribute to the sustainability of our natural resources.
Waste to Energy Process Gets a Major Upgrade
Temarry's Waste to Energy process has been operating at their Mexico facility, Recicladora Temarry, for the last 7 years. While their equipment and technology infrastructure was sufficient to handle the process, it was time for a major renovation! Their Waste to Energy process is an integral part of their closed loop recycling system that uses hazardous waste solids such as rags and debris to generate steam that powers recovery stills.
Their closed loop system provides generators a very desirable, and cost effective, alternative to the industry standard of shipping waste solvents and flammable solids to the Midwest for fuel blending.
Most Significant Innovation
The most significant innovation was the addition of a new injection system. Their thermal treatment process must maintain an operating temperature of between 1500F and 1800F. When feeding high energy waste, such as solvent laden rags, the energy release is so intense that the combustion chambers must be cooled down immediately. In the old system water was injected into the combustion chambers to achieve the cool down.
The new system draws steam from their systems 200 HP boiler and mixes it with the water resulting in an increase of the injection temperature from ambient to about 200F.
The primary benefits of their new system is the reduction in volume of purchased water for cooling down the combustion chambers, the ability to feed waste faster due to a reduction in temperature extremes and a reduction in the use of propane to bring the temperature back up. All benefits represent a reduction in the use of natural resources and improve the sustainability of these vital resources.
The Future
During the past 12 month period the amount of flammable solids shipped to Temarry by generators from the Western U.S. has doubled. In order to accommodate this increase and anticipated future increases it was critical that their renovation be completed.
Their $100,000 renovation will keep this integral link in the closed loop system functioning and preserving resources for years to come.