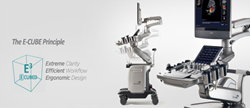 When we rolled out the ALPINION E-CUBE, people swarmed the booth. Industry buzz about this innovative system is growing.
St. Cloud, Florida (PRWEB) August 31, 2015
SonoDepot debuted the ALPINION Ultrasound system at FIME International Medical Expo 2015, the number one trade show in the nation for medical equipment and supplies. Now in its 25th year, the FIME Medical Trade Fair & Congress is the largest annual medical event in the United States and draws participants from across the globe. More than ten thousand industry professionals gather from as far as the Asian Pacific, Middle East and European Union to convene in the Miami Beach Convention Center. At five hundred thousand square feet, FIME attendees roam the largest exhibit floor in Miami to view the latest in medical technology, medical equipment, services, and medical products and supplies.
SonoDepot's introduction of ALPINION's E-Cube series at the FIME International Medical Expo 2015 caused quite a stir drawing swarms of attendees to the booth. The ultrasound sales and service provider recently became the exclusive distributor and service provider for ALPINION in 3 U.S. markets: Florida, Colorado and Western North & South Carolina.
Since the rollout of ALPINION's game-changing system, the company has experienced growing interest in the innovative product line.
ALPINION is an innovative and recognized ultrasound brand with technology that emphasizes efficiency, ergonomic design and extreme clarity. The E-CUBE ultrasound system is transforming the field of diagnostic ultrasound with its single crystal technology and unique software architecture offering a high quality system with advance technology and powerful features. ALPINION's technological philosophy provides customers with uniform image quality throughout a product's lifetime.
New, high quality ultrasound equipment was often deemed too expensive for doctors in the past. The high cost often limited them to purchasing pre-owned or refurbished ultrasound equipment. ALPINION's E-CUBE Series provides doctors with an alternative to expensive machines with high quality diagnostic imaging systems for less.
About SonoDepot
Floyd McAuliffe, Founder and President along with his brother Jack McAuliffe, CEO, are the owners of SonoDepot and trailblazers of OEM-Independent Ultrasound Support providing superior service to healthcare providers in the U.S. since 1985. SonoDepot, based in Central Florida, is an exclusive sales and service provider for the revolutionary Alpinion Ultrasound product line featuring E-CUBE. The company also proudly repairs, services and sells the industry's most respected brands including GE, Philips, HP, and Siemens. SonoDepot's services include ultrasound repair, transducer repair, probe evaluation and maintenance. They are retailers of both new and refurbished ultrasound systems. With a rapid 15-30 minute response time and 24/7 nationwide service, SonoDepot is keenly focused on customer service. In fact, 90% of SonoDepot's ultrasound repair clients are repeat customers who refer colleagues.
For more information on SonoDepot and its products and services visit http://www.ultrasoundrepair.com