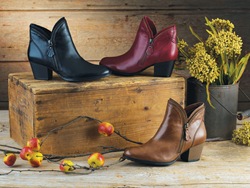 "EVERY YEAR, 32.1 MILLION TREES ARE DESTROYED BOTH INTENTIONALLY AND BY NATURAL CAUSES."
(PRWEB) September 01, 2015
Earth Brands, (http://www.earthbrands.com) a comfort-meets-fashion women's footwear manufacturer is proud to announce its new fall collection. Every customer who buys an Earth Brand shoe will be given an opportunity to plant a tree as part of the company's environmental partnership with Trees for the Future, a nonprofit dedicated to planting more trees. Earth Brands products represent contemporary designs and contemporary comfort with its state-of-the-art footbed. Earth Brands has four primary collections of comfortable women's footwear that are also good for the body: Earthies®, Kalso Earth® Shoes, Earth Origins®, and Earth®.
In complement to Kalso Earth® Shoes (the original wellness shoe) and Earthies® (a fashion and comfort shoe collection), Earth Origins® (comfort and style at an exceptional value), the Earth® footwear line features shoes for the everyday working woman with contemporary styling and comfort that focuses on underfoot health.
There's a time and place for every Earth® style, including dress shoes for work, casual shoes for after work, and everything in-between. The new fall line includes consumer favorites from the Kalso® collection; Earth Brands' signature style dating back to the seventies, which has been, refreshed and re-released. This modern fall collection of smartly styled casual footwear is made for the real lives of real women.
As part of its new fall launch, Earth Brands is also launching a promotional program with Trees for the Future. Every year, 32.1 million trees are destroyed both intentionally and by natural causes. As part of an ongoing initiative to reduce mankind's carbon footprint, Earth Brands and Trees for the Future are asking shoe buyers to plant more trees to make the Earth a happier, healthier place for all.
With every Earth Brand purchase online or in-stores, customers have the opportunity to plant a tree by visiting http://www.plantonearth.com. After purchasing, online customers will be redirected and asked to fill out a brief survey about the particular Earth Brands product they purchased and pledge to plant a tree.
Finding comfortable, stylish women's shoes can be simplified by discovering a first pair of Earth® Shoes. Walk Your World!
The new Earth fall collection is now available!
ABOUT TREES FOR THE FUTURE:
Trees for the Future is dedicated to planting trees with rural communities in the developing world, enabling them to restore their environment, grown more food, and build a sustainable future. The Trees for the Future organization to date has planted over 65 million worldwide in 30 countries and has served over 11,000 villages around the world throughout Central America, South America, Asia and Africa. Learn more at http://www.treesforthefuture.org.