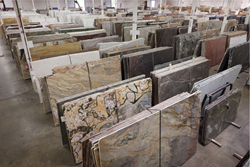 'We are seeing requests for these two types of slabs daily…luckily, we have many in stock now!' - Dilmohan S. Chadha, Owner, IRG
Brisbane, CA (PRWEB) September 01, 2015
Integrated Resources Group offers a new modern look in grey and white natural stone that many homeowners are requesting. As the Bay Area's premier marble and granite company, IRG has the in-stock choices (over 10,000 slabs) that make this color/stone combination easy to select.
The combination of grey quartzite and white marble is a new, fresh look that is turning the heads of designers, homeowners and anyone in search of new, fresh uses for natural stone. The two-toned design creates a luxurious appeal with a quality today's savvy homeowner desires, whether new build or remodel.
Grey and white tones together offer a softer tone, look and feel to not only countertops, walls or floors but also the entire room. It's a classic, ultimate look that is difficult to mimic and makes for a sleek look especially when combined with floating box shelves.
Come into IRG's warehouses and showrooms in Dublin and Brisbane and let one of their talented staff point you in the right direction.
About the Company:
Integrated Resources Group offers the largest selection of natural stone in the San Francisco Bay Area. The family-owned business, started by Dilmohan and Ameeta Chadha, began as a trading company in 1986 dealing in agricultural products, canned food, apparel and natural stone. With a growing reputation for its high-quality natural stone and excellent service, the company relocated the business to a vast warehouse and showroom in Brisbane, where they now carry more than 250 types of stone. The company opened a second showroom and warehouse in Dublin to service East Bay customers. Its products include natural stone, exotics, glass tile, engineered stone and more. For information on the products and services of Integrated Resources Group, the Bay Area's marble and granite company, call 415-657-0280, visit or come into either of their two locations.