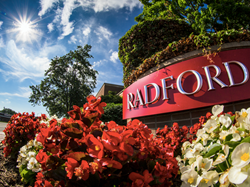 "The first STEM-H graduate program offered by the College of Science and Technology."
Radford, Va (PRWEB) September 01, 2015
Set to begin enrollment in fall 2016, the program will be the first in Virginia and the first STEM-H graduate program offered by the College of Science and Technology. The program will combine traditional classroom learning with practical experience. DAIM is founded upon the department's highly successful database concentration, the only undergraduate database program in Virginia.
The program, through Radford University's Department of IT, will produce and certify professionals who can design, develop and manage large-scale information infrastructure and scalable systems and the processes that convert data into valuable information assets.
"Radford University will be a leader in helping make Virginia more competitive and attractive to businesses who need the unique skills and talent to collect, process, store and protect data," said Professor of Computer Science and Chairman Jeff Pittges. "The insights gained from analytics are only as good as the data being mined. This program will prepare IT professionals to build information systems that deliver high quality data to the next generation of intelligent applications."
DAIM students will engage faculty and industry partners in state-of-the-art facilities, such as the newly opened ARTIS Lab – an advanced, high-tech collaborative workspace and develop projects proposed by members of the Applied Research Center, a consortium of corporate partners. Graduates of the DAIM program will gain the knowledge and real-world experience to become database engineers and administrators, data architects, and information managers capable of designing and developing high performance systems to process and manage a variety of data.
According to Pittges, the market is clamoring for information technology (IT) professionals who can get the right data to the right people at the right time. The Bureau of Labor Statistics estimates the demand for data management professionals will grow by 28.5 percent over the next decade. The Virginia Employment Commission (VEC) predicts a "bright outlook nationally" for database administrators, database architects and data warehouse specialists.
----------
Why Choose Our Program?
As the volume of information continues to explode, so does the need for IT professionals who can maximize the value of information assets while getting the right data to the right people at the right time.
The Radford University MS in Data and Information Management combines traditional classroom learning with practical experience, resulting in a curriculum that challenges students to solve real problems for real clients. Class discussions build a strong theoretical foundation reinforced with hands-on projects enabling students to engage with faculty and industry partners in the ARTIS lab, an advanced, high-tech collaborative workspace.
By blending theory and practice, students master the latest technology – including Hadoop, Spark, and Hive – and learn fundamental concepts and principles in the following areas:
Data architecture; data modeling and design; data storage
Data integration and interoperability; data quality
Data governance; data security and privacy
Data warehousing and business intelligence.
The MS program educates graduates to the advanced level required to deliver increasingly complex data management solutions while preparing them for successful and rewarding careers. Students gain the knowledge and experience they need to attain leadership roles at multiple levels from database engineers and administrators to data architects and information managers.
Graduates will be proficient with tools and techniques for managing traditional data as well as the latest technology and best practices to manage and process big data. Graduates will also be prepared to meet the challenges of designing, developing, and maintaining high-performance systems with 24/7 availability.
--------------------------
Other Graduate Programs Available
The College of Graduate Studies and Research at Radford University is shaped around the evolving needs of today's graduate student, accommodating both working professionals and full-time scholars to offer rigorous academic learning and professional development opportunities among 22 master's programs in 17 disciplines, three doctoral programs, a selection of post-baccalaureate certificates and one post-master's certificate. With classes that are offered in the evening, on weekends and online, students enjoy the convenience and flexibility of graduate programs designed to help them achieve more. (See attachment for full list of programs available).
--------------------------
About Radford
Radford University is a comprehensive public university of nearly 10,000 students that has received national recognition for many of its undergraduate and graduate academic programs, as well as its sustainability initiatives. Well known for its strong faculty/student bonds, innovative use of technology in the learning environment and vibrant student life on a beautiful 204-acre American classical campus, Radford University offers students many opportunities to get involved and succeed in and out of the classroom.
A Division I member of the NCAA and Big South Athletic Conference, Radford University competes in 15 men's and women's varsity athletics. With over 250 clubs and organizations, RU offers many opportunities for student engagement, leadership development and community service.
SERVING THE COMMONWEALTH AND BEYOND
Radford University serves the Commonwealth of Virginia and the nation through a wide range of academic, cultural, human service, and research programs. First and foremost, the university emphasizes teaching and learning and the process of learning in its commitment to the development of mature, responsible, well-educated citizens. Radford University develops students' creative and critical thinking skills, teaches students to analyze problems and implement solutions, helps students discover their leadership styles, and fosters their growth as leaders. Toward these ends, the university is student-focused and promotes a sense of caring and of meaningful interaction among all members of the University community. Research is viewed as a vital corollary to the teaching and learning transaction as it sustains and enhances the ability to teach effectively. Radford University believes in the dynamics of change and has a strong commitment to continuous review, evaluation, and improvement in the curriculum and all aspects of the university, so as to meet the changing needs of society.
ACCREDITATION
Radford University is accredited by the Commission on Colleges of the Southern Association of Colleges and Schools to award baccalaureate, masters, educational specialist and doctorate degrees. Contact the Commission on Colleges at 1866 Southern Lane, Decatur, GA 30033-4097 or call (404) 679-4500 with questions about the accreditation of Radford University.