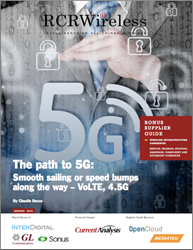 There is a risk that if we stop discussing the evolution of LTE too soon and focus on 5G it will stall the market. - Claudia Bacco, report author
Austin, Texas (PRWEB) September 02, 2015
5G is being positioned as the holy grail to everything that ails current 4G infrastructure. The question that arises is whether these ailments are really enough to push mobile operators to deploy 5G. And if so, what will be the timeframe?
This latest report, "The Path to 5G: Smooth sailing or speed bumps along the way – VoLTE, 4.5G," is intended to review these questions along with the current status of LTE and voice-over-LTE deployments and the implications of upcoming "4.5G" technologies in the mobile network. Fourteen companies from the mobile industry – including vendors and operators – participated in interviews to help formulate the trends shared in this report. In addition, Current Analysis provides an analyst's view on these topics.
Download this report to learn:

Where are current LTE and VoLTE deployments and trials taking place.
What challenges still hinder more widespread adoption of VoLTE.
How will LTE and 5G play a role in the "Internet of Things" and connected car topics.
Motivations to move to 5G.
Challenges to hinder 5G deployments.
Watch the complimentary editorial webinar featuring:
• Claudia Bacco, Managing Director - EMEA, RCR Wireless News

Peter Jarich, VP Consumer and Infrastructure, Current Analysis
Daniel Teichman, Senior Manager Product Marketing, Sonus Networks
Christopher Cave, Director R&D, InterDigital Labs
"As the industry gains momentum on the 5G topic there is a risk that if we stop discussing the evolution of LTE too soon and stall the market," said Claudia Bacco, RCR Wireless News Managing Director – EMEA. "This is a very real concern causing potential confusion as to what is and isn't 5G and the path to get there. 5G will focus on 'use cases'; not the topics of prior network upgrades such as data speeds. This creates a huge window for innovation, along with a great deal of risk with such a major shift in the role of technology in these discussions. Potentially this leads to a longer time to reality for 5G then many would desire."
Download the report for free here.
About RCR Wireless News
Since 1982, RCR Wireless News has been providing wireless and mobile industry news, insights, and analysis to industry and enterprise professionals, decision makers, policy makers, analysts and investors. Our mission is to connect, globally and locally, mobile technology professionals and companies online, in person, and now on video. Our dedication to editorial excellence coupled with one of the industry's most comprehensive industry databases and digital networks leads readers and advertisers to consistently choose RCR Wireless News over other industry publications.
http://www.rcrwireless.com