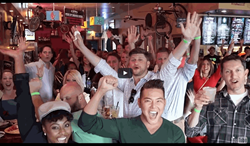 To maintain our stellar reputation as a leading innovator and services provider, we need to keep adding top talent to our business.
Campbell, CA (PRWEB) September 10, 2015
On-Site.com, an online leasing platform for apartment owners and managers headquartered in California's Silicon Valley, is experiencing exceptionally high business growth as a direct result of the rapid growth in the multifamily housing industry.
On-Site continues to enjoy double digit growth year over year. According to Axiometrics, the leader in apartment and student housing market research, "the national apartment market could be in its hottest long-term streak since the Great Recession, with six straight months of 5.0% or greater annual effective rent growth as of July 2015." The Bay Area remains one of the strongest markets and the state of California holds six of the top 17 markets for rent growth in 2015.
On-Site takes pride in outstanding company culture and knows that one size doesn't fit all. On-Site seeks to consistently deliver usability, quality, and flexible solutions specific to the client's needs. With top-notch customer service, rigorously-tested products, and an innovative focus, On-Site is a great place to be for both clients and employees. Watch the Company Culture Video for a glimpse into On-Site's first-class company culture.
HR Director at On-Site.com, Rhonda Fancher, states, "To maintain our stellar reputation as a leading innovator and services provider, we need to keep adding top talent to our business. Having our Customer Service Center and Engineering Department located in our Silicon Valley headquarters is advantageous to all of our employees too—many companies outsource their services, but On-Site has the capabilities to perform all business functions internally."
Clients also love working with On-Site's stellar customer service personnel. Dawn Duckhorn, Property Support Manager for EdR Realty Trust said, "Before we ever became clients, we visited the home office in Campbell. Everyone was so nice and welcoming. It was refreshing to see the excitement from the On-Site team when we met about our wants and needs for online leasing. The product is awesome but the people are extraordinary."
On-Site is now hiring for multiple positions, including:

Document Design Engineer
DevOps Engineer
Regional Sales Manager
Regional Account Manager
Client Services Representative
Marketing Intern
Job openings are nationwide and at Silicon Valley company headquarters in Campbell, California. For property management professionals working in the apartment and multifamily housing industry, or those seeking employment in the industry, see the Careers at On-Site page for job descriptions and to apply now.
About On-Site
Founded in 1999 with technology and service 100% based in the U.S., On-Site is bringing the apartment industry up-to-speed with what today's consumer expects from the renting experience: modern technology and a focus on usability. On-Site's end-to-end platform covers everything from community marketing and renter qualification to lease contract generation with e-signatures and online storage. Plus integrated communication hubs drive resident retention after move-in. The result is a simplified rental experience that leads to greater customer satisfaction and translates directly to the positive side of the balance sheet. For more information about On Site's leasing solutions, visit http://www.on-site.com or contact one of On-Site's online leasing experts at (855) 667-6500.