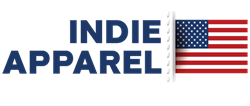 Boston, MA. (PRWEB) August 31, 2015
IndieApparel.us, formerly FashionLabel.com, is receiving rave reviews from independent designers of 'made in America' fashion and accessories who use the site to increase visibility and sales. The site, which is undergoing a rebranding campaign, has quickly gained traction among fashion designers and consumers as one of the web's premier destinations for locally sourced and ethically produced goods.
"[Fast fashion] makes it really difficult for companies like La Fille Colette, whose production partners are paying their employees living wages, to compete," said Colette Chretien, designer and founder. "That's why it's so great to have platforms that sell only Made in America products. I was so excited when I discovered Indie Apparel, because I knew that we would be listed with other ethically produced and fairly priced products, and we wouldn't have to compete with fast fashion. As far as I know, Indie Apparel is the only online store of its kind, and I just really hope that a lot of people who care where their clothing comes from can discover it and it can be their go-to site for shopping."
"I am very happy to partner with IndieApparel.us, a company that provides opportunities, visibility and support for independent designers that are committed to have their products made in the U.S.," said Cecilia Taibo Rahban, designer and founder of Cecilia's Steel. "It's an opportunity to share my creations with an even greater customer base who appreciates not only my designs, but the mission and spirit that serves as the very foundation of my craft."
"In today's economy, it is very important to shop local and support small businesses and that is why I am committed to the 'Made in USA' mission," said Vicky Zuniga-Winkler, founder and designer. "IndieApparel.us has built a platform to help small local business owners like myself to succeed."
"I'm committed to Made in the USA because being from Queens, I love being in the heart of the garment district," said Jennifer Hamilton, designer. "You can see it all happen from inspiration-to finished product."
"I think Indie Apparel is offering a great opportunity to showcase all the wonderful resources and talent we have right here in the USA which is really commendable," Hamilton continued.
IndieApparel.us is actively seeking partnerships with new and emerging independent designers who are committed to manufacturing fashion and accessories in the U.S. For more information and partnership opportunities, visit http://www.indieapparel.us.
###