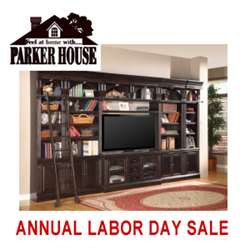 This is the only chance for customers to save on any Parker House Furniture - and it only lasts for several days!
East Brunswick, NJ (PRWEB) August 29, 2015
Homelement.com announces the annual Parker House Furniture Sale from August 28 to September 7, 2015. This special event allows the customers the chance to save on all Parker House Furniture products during this period.
Parker House Furniture is usually excluded from any promotions on the site. This limited time annual sale (August 28-September 7) is the only time when customers can have Parker House products at a discount. Customers can view the Parker House discount here: http://www.homelement.com/Parker-House-Furniture-m-24.html
Parker House Furniture specializes in configurable home office sets, library wall units, and entertainment center sets. Customers can pick and choose the necessary home office or library wall pieces to fit the space that they have and for the function that they are looking for. Parker House also offers expandable TV stands on most of their entertainment center sets to create a custom fit look depending on the TV size.
Homelement has been a premier Parker House Furniture authorized dealer for many years now. Their customer service team has a lot of experience putting together custom Parker House configurations, depending on the needs of each individual customer. Every Parker House order is manually verified to make sure that all the pieces that customer orders can be fit together, since several special pieces might require a certain pairing.
"You only purchase home office sets like this probably once - make sure that you purchase it at the right store. Not all stores are equipped with the knowledgeable staff that can help make sure that your purchase is seamless."
About Homelement.com
Homelement.com is a leading retail supplier of stylish and elegant home furnishings with more than a dozen years of industry experience. Homelement offers a complete selection of Parker House Furniture from the Parker House home office sets, library wall units, to entertainment centers and more.