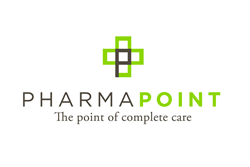 Birmingham, Ala. (PRWEB) September 01, 2015
PharmaPoint is proud to welcome Edward Hospital as the latest hospital to open and operate a point-of-care retail pharmacy. Located in Naperville, Illinois, the hospital is a full-service, regional healthcare provider, offering access to complex medical specialties and innovative programming.
"We are so excited to offer our patients the added benefit of having a pharmacist as an integral member of their care team," said Phillip C. Williams, BS Pharm, Pharm.D., MBA, Administrative Director of Pharmacy Services. "At Edward, we believe that the best patient is an informed patient. We invite both our patients and their families to be partners in care. The ability to be able to speak with a pharmacist before, during and after a hospital stay is just another benefit of our healthy driven services."
Edward is rated the number one hospital for overall quality in Chicago's southwest and west suburbs, according to the National Research Corporation.
"Being able to offer outpatient pharmacy services such as bedside delivery of medications, medication reconciliation, medication synchronization and Medication Therapy Management (MTM) to Edward patients is going to continue to promote the safe care their organization stands for," said Mike Plaia, PharmaPoint's CEO. "Our XchangePoint system will also serve as the catalyst to further facilitate communication, align systems and data, and highlight how Edward patients move through the care continuum."
Edward has locations in Naperville, Plainfield, Bolingbrook, Oswego, and more. Edward Pharmacy is located at: 100 Spalding Drive, Suite 101, Naperville, Illinois, 60540.
About PharmaPoint
PharmaPoint is an innovative, technology-enabled pharmacy management company, providing best-of-class solutions for hospitals, health systems and physician groups. PharmaPoint is focused on completing the care continuum, thereby improving patient health and satisfaction, reducing healthcare costs and providing a source of ancillary income. Recognized as one of the most innovative, inspiring and fastest growing private companies for 2013, 2014 and 2015 by Inc. magazine, PharmaPoint is currently managing pharmacies across the United States. PharmaPoint is headquartered in Birmingham, Alabama. For more information about our company, you can visit http://www.pharmapointrx.com.
About Edward Hospital
Edward Hospital is a full-service, regional healthcare provider offering access to complex medical specialties and innovative programming. Edward has 352 private patient rooms and 4,700 employees, including 1,200 nurses and a medical staff of 1,050 physicians comprised of independent members of the medical staff, employed physicians and independent contractors. The physicians represent 82 medical and surgical specialties and subspecialties with 98% board certified in their specialty.
####