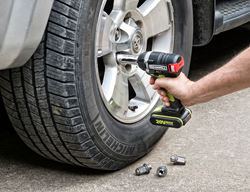 "Having a tool like this at your disposal is empowering," said Jeanne White, Rockwell's Senior Product Manager.
Charlotte, N.C. (PRWEB) August 31, 2015
The new Rockwell® 20V MaxLithium Brushless ½ in., 3-Speed Impact Wrench is a compact, lightweight powerhouse. This brushless impact wrench busts loose and tightens stubborn nuts, bolts and lugs, and it's not limited to automotive use.
Changing a flat tire on the side of the road is no picnic, but having the right tools at your disposal makes all the difference in the world. Instead of muscling those lugs with a lug wrench, consider Rockwell's 20V Brushless Impact Wrench. It applies the necessary torque to break free, spin and tighten lug nuts in no time at all.
The 3-speed digital gearbox of Rockwell's new cordless impact wrench has torque levels of 73, 132 and 220 ft./lbs. The user simply selects the torque level by pressing the tool's digital indicator button. Each button press advances the tool's torque from low, medium to high. The tool also packs no-load speeds of 0-1300, 0-2100-and 0-2900 rpm with impact rates of 1600, 2900 and 3300 ipm (impacts per minute).
"Having a tool like this at your disposal is empowering," said Jeanne White, Rockwell's Senior Product Manager. "It handles mechanics' jobs, but it also performs building and assembly tasks with no problem, such as driving 3 in. lag screws when building decks."
The brushless motor in the Rockwell 20V ½ in. Impact Wrench increases battery run time by up to 50 percent per charge over standard brushed motors. Its computer-controlled power distribution improves motor efficiency and durability by reducing noise, heat build-up, friction and wear. The brushless motor also features a 10-year warranty.
Walk into any auto shop bay and that familiar "zip, zip, zip, zip" sound is a pneumatic impact wrench in action, removing lugs for tire rotation or replacement and a myriad of other jobs such as removing skid plate and cross member nuts and bolts, leaf spring U-bolt nuts and more. These are just some of the jobs that the Rockwell 20V Impact Wrench can handle.
Owning a cordless impact wrench is an asset to an off-roader in the back country who needs to change tires on the fly. For road trips, pack it with the flares, flashlight and fuses because it's a fast and efficient emergency repair tool.
By using a combination of shallow and deep impact sockets, lug nut sockets and adapters, the ½ in. impact wrench provides a way to remove stubborn or rusted nuts, bolts and lugs in any number of applications. For vehicles with specific tire torque settings, a torque wrench can be used to monitor calibration.
Weighing 3.3 lbs. (with battery), the lightweight and compact impact wrench has a short headstock with a ½ in. anvil chuck. The tool's compact size allows easy access into limited clearance areas. There's comfortable overmold on the handle for a steady grip. An LED light illuminates the work area and stays on for an additional 20 seconds after the trigger is released. A battery reserve indicator monitors power level.
The 20V, ½ in. impact wrench includes two, 20V MaxLithium 2.0 Ah batteries, one-hour charger and carrying bag. Rockwell provides a 10-year warranty on the motor and 3 years on the tool. Once the tool is registered, it's also eligible for Rockwell's Batteries For Life program, which provides free batteries for the life of the tool – a 70 percent savings when compared to competitors' battery replacement costs over the tool's life.
The Rockwell 20V MaxLithium ½ in., 3-Speed Impact Wrench (RK2855K2, $259) is available at http://www.rockwelltools.com.
Follow Rockwell's social media links through:
Facebook: https://www.facebook.com/RockwellTools?ref=hl and
Twitter: https://twitter.com/RockwellTools.
# # #