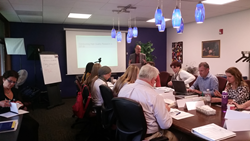 SPD Foundation's mentorship program receives professional participants from all over the world, making the program's effect on the field of SPD intervention highly influential.
Denver, CO (PRWEB) August 31, 2015
The Sensory Processing Disorder (SPD) Foundation announced on August 28, 2015 that they have received a scholarship donation from Integrated Listening Systems (iLs). This substantial donation will be used to create six scholarships to attend SPD Foundation's one-of-a-kind Level 1 Intensive Mentorship training program. These intensive, one-week mentorship programs at SPD Foundation and its Denver, CO sponsor clinic, STAR (Sensory Therapies And Research) Center give professionals new tools to treat this neurological condition that bring children and adults out of isolation and into the world to live joyful lives. The field's top experts train participants in the most recent treatments, assessments and research regarding Sensory Processing Disorder. iLs is a multi-sensory assessment and training program, which builds neural connections in parts of the brain involved with learning, language and movement.
Through research, the SPD Foundation is finding that SPD not only exists as a primary diagnosis, but also affects a majority of people with a diagnosis of ADHD or Autism. However, the sensory issues that often accompany ADHD and Autism or SPD as a primary diagnosis often go unaddressed and children can be mislabeled as having behavioral issues. This is exactly why getting professionals trained in SPD assessment, research and intervention is a large focus of the SPD Foundation, its Mentorship Program, and iLs.
These mentorship programs are delivered in small groups with no more than 14 participants and are lead by SPD Foundation and STAR Center's founder, Dr. Lucy Jane Miller with her handpicked team of SPD professionals and researchers including Dr. Sarah A. Schoen. SPD Foundation's mentorship program receives professional participants from all over the world, making the program's effect on the field of SPD intervention highly influential. In fact, the foundation reports its last mentorship program in 2015 was sold out with a growing waitlist proving that this training program is in high demand.
"The SPD Foundation salutes iLs not only for their wonderful generosity, but for their belief that an investment in mentorship scholarships is truly an investment in expanding the ability of OTs to treat SPD," said Sheryl Benjamin, Executive Director of the SPD Foundation. "Our goal is to educate participants so they can dynamically change the lives of children in their local community by addressing this often overlooked disorder."
Sensory Processing Disorder is a neurological disorder that disrupts the way an individual processes and responds to sensations. Individuals with SPD may over- or under-respond to one or more sensations (e.g., a loud sound, or light touch), crave sensations or may have problems with motor skills and coordination. SPD affects more than four million children in the United States alone—an average of one child in every classroom.
The Sensory Processing Disorder Foundation invites potential applicants for The iLs Mentorship Scholarship Award for Level 1 workshops to apply at: [http://www.spdfoundation.net/education/mentorships/mentorshipscholarship/
ABOUT SENSORY PROCESSING DISORDER FOUNDATION
The Sensory Processing Disorder (SPD) Foundation, a Colorado 501(c)(3), is the world leader in research, education, and awareness for Sensory Processing Disorder, a neurological condition that disrupts the daily lives of more than 4 million Americans. The SPD Foundation offers educational programs, conducts SPD research, and provides resources for parents worldwide. Dr. Lucy Jane Miller, widely recognized as a leader in SPD research worldwide, founded the SPD Foundation in 1979. The SPD Foundation provides hope and help to individuals and families living with SPD.