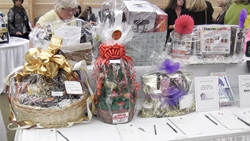 Akron, OH (PRWEB) August 31, 2015
The 11th annual "The Melting Pot ~ A Taste of Many Nations" features a silent auction with over 100 auction items, including a priceless CD signed by Akron natives, The Black Keys.
"There are so many unique items in this year's fundraiser, with a really diverse group of items up for auction," said Karen Hrdlicka, President & CEO of Mature Services. "We have everything from a thirty minute ride on the Goodyear Blimp to yoga classes and massages, Cavs tickets, Fred Astaire dance lessons, fitness packages with memberships and activity trackers, Park Hopper Passes from Disney Theme Parks, music lessons from Falls Music School and so much more," Hrdlicka stated. "There is something for everybody at our auction, no matter what your interests. You could even win two round-trips airline tickets in our raffle!"
In addition to the auction, this signature event features a wonderful food tasting offering local treats with an ethnic flair. Participating restaurants include Saffron Patch, Aladdin's Eatery in Fairlawn, North End Market, Niko's Sandwich Board, TLC Catering, Angel Falls Coffee Company, Wally Waffle, On Point Restaurant, New Era Restaurant and more.
"The Melting Pot ~ A Taste of Many Nations" will be held on September 10th, from 5:30 pm- 8:30 pm at St. George Family Center, 3204 Ridgewood Rd. in Akron, OH. To learn more about the event and order tickets, please visit http://matureservices.org/mp/meltingpot2015.php.
Mature Services provides high-quality programs to empower the economic, social, physical, and mental well-being of adults as they age. Programs include homecare, integrated mental health counseling and addiction prevention and treatment, job training, home delivered and congregate meals, volunteer opportunities and an emergency food pantry.