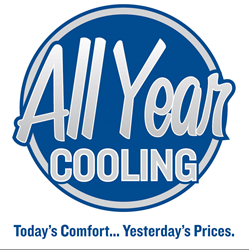 We can't emphasize enough just how important it is to follow these air conditioning safety tips- they can be life saving.
Fort Lauderdale, Florida (PRWEB) August 28, 2015
All Year Cooling, a local South Florida air conditioner repair and maintenance company, has outlined a number of safety precautions that homeowners should follow to prepare their air conditioning units for the upcoming tropical storm. All Year Cooling wants the south Florida community to know how important it is to follow these safety measures and why it is key to preserving the safety of all air conditioning units.
There are many possible hazards that air conditioning units are subject to during inclement weather like hurricanes and tropical storms. Storm surges, heavy rainfall, flooding, high winds and tornadoes are just some of the dangers that usually come along with large storms. Before the storm hits, it is important to turn off air conditioning systems at the circuit breakers and the thermostats to avoid a chance of power surges. Power surges pose as fire and shock hazards due to possibility of flooding.
Taking advantage of hurricane straps before the storm arrives is also something to take into consideration; these straps can secure outdoor air conditioning units and prevent the unit from moving, which can cause serious damage. Additionally, cleaning a unit's surrounding area of large debris is also recommended before a storm. All Year Cooling recommends removing all loose shrubbery, rocks, or branches that could potentially be picked up by the storm's heavy winds.
Following a storm it is crucial to follow specific safety precautions to ensure air conditioning units are safe to run. Investigate the area around the unit to check for any noticeable damage. If flooding or any movement of the air conditioning unit has occurred, there is a risk of electrical shock when turning an air conditioning unit back on. If noticeable damage has been made or if flooding has occurred, it is exceptionally important to have the unit checked by a professional to ensure that it is safe to operate.
All Year Cooling's President, Tom Smith, has been quoted as saying "All Year Cooling wants to check your AC unit before and after the storm hits Monday. We can't emphasize enough just how important it is to follow these air conditioning safety measures- they can be life saving."
All Year Cooling is a local, family-owned air conditioning repair and maintenance company that has been in business for the past 42 years. Specializing in air conditioning sales, repairs, maintenance and installations, All Year Cooling knows what it takes to keep South Florida cool and out of the heat. President Thomas Smith is available 24/7 to answer his customers' phone calls at 954-773-8619. To learn more about how All Year Cooling can help your air conditioning prepare for the upcoming storm, visit their site here.