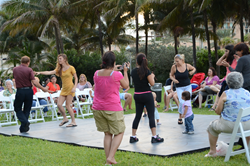 Sunny Isles Beach, Florida (PRWEB) August 30, 2015
The fall season of outdoor concerts and events resumes in Sunny Isles Beach on Wednesday, September 16 with the return of the Sunny Serenade Concert Series. The Taste of Sunny Isle Beach also returns to the event lineup on Sunday, October 4.
The Jersey Wiseguys will perform from 7:30 – 9:00 pm at the original Sunny Serenade series location, Samson Oceanfront Park (17425 Collins Avenue). These outdoor concerts were originally held every third Wednesday during the "season" at this park. The ocean side venue provides a wonderful backdrop for musical performances. As the city infrastructure grew and more parks were opened, the series location was changed, as needed. To the delight of many, the September performance is back at Samson Oceanfront Park! Chairs will be provided and a dance floor will be placed in front of the stage for those wanting to get into the swing of things. City staff is looking forward, at some point in the future, to holding a Sunny Serenade in the soon to be completed Gateway Park.
Another delicious event that will make a comeback this year is the Taste of Sunny Isles Beach. This event will take place on Sunday, October 4 from 5:00 – 8:00 pm at Heritage Park (19200 Collins Avenue). Join in celebrating the diversity of Sunny Isles Beach, with an array of local restaurants selling specialty dishes from around the world. Tasting portions at affordable prices enable patrons to eat their way around the park. There will be something to satisfy all appetites. Also get a taste of the atmosphere that is Sunny Isles Beach by enjoying a live performance by winners of this year's SIB Talent Show.
Admission and parking to both events are free and open to the public. For the Samson Oceanfront Park venue, vehicles may park behind the Walgreens on 175 Terrace. For Heritage Park cars may enter the garage or park under the William Lehman Causeway. Residents may also hop on the SIB Community Shuttle Bus to and from the event.
Stay informed on all that's happening here by visiting sibfl.net, reading city publications or following the City on Facebook (City of Sunny Isles Beach), Twitter or Instagram (@CityofSIB) to learn the locations of future Sunny Serenades.
For additional questions, please contact the Cultural & Community Services Department at 305.792.1706.