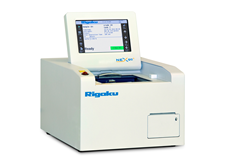 Austin, Texas (PRWEB) August 28, 2015
Applied Rigaku Technologies, Inc. today announced a new method for the measurement of iron in milk powder by energy dispersive X-ray fluorescence (EDXRF). Rigaku EDXRF application note #1491 describes the performance of the Rigaku NEX QC+ analyzer for the measurement of iron in powdered milk. The analysis can also be used for measuring iron in similar food products, such as cocoa powder and flour. The report includes details regarding sample preparation, calibration and repeatability.
Powdered milk is formed by evaporation as a means of preserving the milk, imbuing it with a much longer shelf life without requiring refrigeration. Nutrients, the most important being iron, can be controlled or added at specific levels. In the production of powdered milk, the iron content is of particular significance and is monitored throughout the process to ensure proper iron content of the final product. Monitoring iron levels is also useful in detecting contamination from the milling process.
To demonstrate the method, measurements were performed using the NEX QC+ EDXRF analyzer, which features a rugged, compact design with a touchscreen interface, enabling a fast and simple means of monitoring the iron composition. It is a tool that can be used for quality checks throughout the entire production process.
The results indicate that, given good sample preparation and proper reference standards for calibration, the NEX QC+ spectrometer can be a vital tool for measuring iron in powdered milk and similar products.
A copy of this application report may be requested on Rigaku's official website.
http://www.rigaku.com/en/products/xrf/nexqcp/app1491
About Rigaku
Since its inception in Japan in 1951, Rigaku has been at the forefront of analytical and industrial instrumentation technology. Rigaku and its subsidiaries form a global group focused on life sciences and general purpose analytical instrumentation. With hundreds of major innovations to its credit, Rigaku and its subsidiary companies are world leaders in the fields of small molecule and protein crystallography, X-ray spectrometry and diffraction, X-ray optics, as well as semiconductor metrology. Rigaku employs over 1,100 people globally and its products are in use in more than 70 countries – supporting research, development, production control and quality assurance activities. Throughout the world, Rigaku continuously promotes partnerships, dialog, and innovation within the global scientific and industrial community.
For further information, contact:
Scott Fess
Product Manager
Applied Rigaku Technologies, Inc.
tel: +1. 512-225-1796
info(at)RigakuEDXRF(dot)com