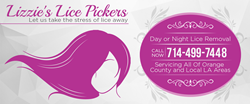 Orange, CA (PRWEB) August 30, 2015
Lizzie's Lice Pickers, a company that offers professional live removal service, has just announced a back to school special. The company is currently offering lice head checks for just $10, which is a significant discount from the normal price of $25. In addition, the company is offering a 10% discount on their lice treatment products. "With kids returning to school, it is very important to be on the lookout for lice," says a company spokesperson. "We are hearing of lice outbreaks across the country, and even treatment resistant lice, so it is more important than ever to have children checked and treated if they in fact do have lice."
The head check service is available to families in or near the Los Angeles area. Lizze's Lice Pickers services all of Orange County, California and areas of Los Angeles near Orange County. The company offers two ways to take advantage of their head check service. Families can come to the Lizzie's Lice Check treatment center in the City of Orange, or a trained professional will travel to a client's home for in-house, personal service.
The company hires only trained professionals who specialize in the identification and removal of lice on children and adults. They also use only non-toxic, natural, multi-enzyme-based and hypoallergenic products.
Like many companies, Lizzie's Lice Pickers was founded to provide an important service to the community. The company founder and her children had an experience with lice several years ago and after popular chemical-based treatments failed, she discovered the benefits of a professional lice treatment salon and all-natural treatment products.
Parents interested in taking advantage of this back-to-school special can contact Lizzie's Lice Pickers by phone at 714.499.7448 or by visiting their website at http://www.lizzieslicepickers.com. The website also features information on all of the company's products and services.
###