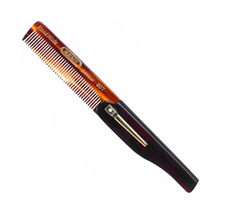 Los Angeles, CA (PRWEB) August 30, 2015
Gentleman's Beard Balm, the supplier of facial hair products and accessories has announced that they will now offer a selection of handmade beard combs from renowned UK beard comb maker Kent Combs. The addition of the Kent Combs means that Gentleman's Beard Balm customers will be able to purchase all of their beard and mustache needs from the same source. According to a company spokesperson, "When clients, especially those in the UK, think of facial hair grooming, they think of Kent Combs, and we are thrilled to offer our clients these unique handmade combs."
Initially, the company will offer three Kent Comb products. The standard Kent Beard Comb is designed especially for beards and made of polished round teeth to help maintain a and smooth and well-groomed beard. The Kent Folding Beard Bomb With Pocket Clip is made for those who travel a lot or want to carry their grooming comb with them at all times. Finally, Gentleman's Bead Balm is offering the Kent Beard & Mustache Comb for those customers who need to keep both well groomed.
The company says the decision to carry these new items was an easy one since their analysis shows that there is a need for such combs. One representative put it this way, "our customers have told us that they would like a selection of quality beard and mustache combs, and we heard them."
All three combs are currently available for purchase on the Gentleman's Beard Balm website at http://www.gentlemansbeardbalm.com/product-category/beard-combs/. Each comb is handmade and crafted of the finest material in the Kent Comb tradition that so many in the UK and around the world are familiar with. The combs join the company's popular beard balms, bears creams and butter, beard oils and hair gels.
More information about the company is available at http://www.gentlemansbeardbalm.com. Gentleman's Beard Balm also has a large and active presence on Facebook, Twitter, Instagram and Pinterest.
###