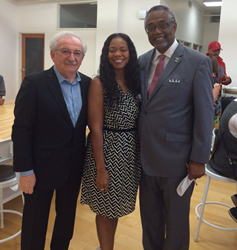 We believe that our AIMS's donation program will help today's fashion student and will impact their lives and futures in a positive manner as to become tomorrow's fashion leaders
Los Angeles, CA (PRWEB) August 31, 2015
Henry Cherner, Managing Partner of AIMS360 recently participated with educators and other local business leaders to offer a week-long "Youth Innovative Entrepreneurial Leadership Development" (YIELD) program designed to give local district high school students in Los Angeles an opportunity to experience a hands-on real-life training in targeted industries and facilitated by trade experts.
The participating educators and business experts that participated in this first-ever entrepreneurial program are: Council member Curren D. Price, Jr. Theresa Martinez, Los Angeles Latino Chamber of Commerce President & CEO, Laurence B. Frank, Los Angeles Trade-Technical College President Natalie Orta, Supervisor, Economic Development Division, U.S. Small Business Administration, Los Angeles District Office Constance Anderson, Director, PCR Small Business Development Center Ava Bromberg, The Reef Senior Vice President of Business Development James Bottom, Project Director of the Blackstone Launchpad @USC and Henry Cherner, Managing Director of AIMS360
The intense five-day program taught local inner-city youth entrepreneurial skills for business ownership and included field trips to Microsoft, the NY Film Academy, and Los Angeles City Hall. For five days, students participating in the program were exposed to a variety of industries such as Technology, Apparel/Fashion, Entertainment, Construction, and Culinary Arts. Henry Cherner was delegated to represent and give a presentation about the business side of the Apparel/Fashion Industry and demonstrating the AIMS 360 apparel ERP software.
The youth leadership program was produced in part with the office of Curren D. Price Jr., the Councilmember for the Ninth District in the city of Los Angeles and includes parts of South Los Angeles as well. The program took students from this area, which has a 55 percent high school graduation rate, on trips to workplaces and presentations by executives in the fields of entertainment, construction, the culinary arts and technology.
While the apparel-industry software program AIMS360 is taught to students at the Fashion Institute of Design & Merchandising, Los Angeles Trade-Technical College, Cal State Poly Pomona, and Saddleback and Fullerton colleges in Orange County, Henry Cherner, AIMS360's managing partner, is considering expanding the reach of AIMS360's education program to high-school students. As the program wrapped up, Cherner said he thinks AIMS360 should, "explore increasing its outreach to help youth looking to get a foothold in the fashion industry."
Cherner said he thinks the fashion businesses would benefit from interns who could perform advanced tasks. He discussed the idea with Price and hoped to make teaching AIMS360 to high school youth part of a public/private program. "We would love to see the younger kids get motivated," Cherner remarked. "They could get internships before they start college. Knowledge of data entry and enterprise resource planning software could help with that first step into the business," he said.
"The earlier education starts in these areas the more the youths' interest is fostered, imagination picqued and innovation and talent nurtured. They are exactly the type of individuals we want to step into our businesses in the future," notes Cherner.
AIMS was first taught to students at LATTC in 1998. Today the software has been integrated into business curriculums at many more educational institutions for students majoring in apparel-related studies. Students learn how to use ERP software to manage the business side of fashion.
Contributing to education is extremely meaningful to AIMS and highlights the efforts of schools to modernize, while inspiring students to experience software as applied in the real world. AIMS360 had donated over one million dollars in software to fashion schools since the launch of its "AIMS Cloud for Fashion Schools" donation program over the past ten years.
"Education and students are our top priority. Providing ERP solution software is one of the many ways that AIMS reach to support schools nationwide" said Cherner. "We believe that our AIMS's donation program will help today's fashion student and will impact their lives and futures in a positive manner as to become tomorrow's fashion leaders"
About AIMS360
AIMS360 offers the most robust and fully integrated apparel inventory software solution for importers, distributors and manufactures of apparel, footwear, accessories, and other fashion related goods. With over 30 years of experience, AIMS ties cutting-edge technology with all facets of your business. AIMS 360' product suite is comprehensive, feature-rich, user-friendly, easy to implement, and is compatible on a laptop, PC, Mac, iPad and any Windows 8 devices. Solutions are available for on-site applications and in the cloud.
The AIMS360 apparel ERP system offers complete inventory management, high-level dashboards, multiple windows, time and action, business intelligence, custom reporting and much more. Our cloud-based system reduces costs and utilizes the latest .NET and Microsoft SQL platforms. AIMS is the only software being taught in schools and universities across the nation.
The AIMS360 inventory-management system provides the most professional and up-to-date applications including: AIMS RemoteLink (order taking on the go for iPad and Windows 8 Devices), AIMS GL Integration/POS Integration with QuickBooks, AIMS WebLink (online wholesale shopping cart), AIMS EasyShop (online retail shopping cart), UPS/FedEx/USPS shipping integration, AIMS360 Enterprise Business Intelligence, and simple EDI integration. Connect AIMS 360 with any third party solution (JOOR, NuOrder, Brandboom, Shopify, and Magento to name a few).
Whether a small, medium or large business, AIMS360 is the most robust ERP system in the industry. No other apparel ERP system is built on the most advanced technological platforms like ours. Grow your business and increase your ROI, get the industry's leading ERP software, AIMS360.
For your free demo, contact us today and see why so many clothing manufacturing, wholesaling, importing, and other types of apparel businesses rely on AIMS360.
For more information about AIMS Education and Donation Program, please contact: info(at)aims360(dot)com