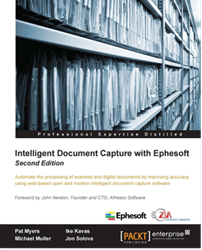 Ephesoft can minimize the time companies spend reviewing and processing physical content or digital images.
Boulder, CO (PRWEB) August 31, 2015
Zia Consulting, Inc., the leading provider of Enterprise Content Management (ECM) and Intelligent Document Capture (IDC) solutions, and Ephesoft, creators of the industry-leading Smart Capture® advanced document capture platform, announce the launch of the second edition of their book, Intelligent Document Capture with Ephesoft, available in both digital and print formats.
Intelligent Document Capture with Ephesoft explains the benefits of using IDC technology within organizations as well as the implementation of document capture using Ephesoft. This book is intended for information technology professionals interested in installing and configuring Ephesoft for their organization, but also provides value to anyone interested in learning about document capture. Three members of the Zia team, Pat Myers, Michael Muller, and Jon Solove co-authored the book with Ike Kavas, CTO of Ephesoft.
"We have worked with a lot of different document capture technologies over the years and we believe Ephesoft is truly a next generation product," said Pat Myers, Executive Vice President, Zia Consulting. "While we understand that paper cannot be completely eliminated from the workplace, we believe that capturing documents, images, and emails using Ephesoft can minimize the time companies spend reviewing and processing physical content or digital images. The result is a major savings of time and money."
In this second edition of the book, readers learn the benefits of implementing IDC using the newly released Ephesoft Enterprise 4. Also updated in the second edition is a focus on leveraging the power of Ephesoft Web Services for embedded capture to make portals, websites, and software applications more intelligent. The authors close with a discussion of how this open source software provides a cost-effective solution for document capture.
Zia Consulting was named Ephesoft Partner of the Year 2013, 2014, and 2015 and is the only certified Ephesoft trainer. Ephesoft is the core technology used in the Accelerate document automation solutions from Zia. Accelerate targets the costly and complex document processing tasks that exist from mortgage, insurance, government, and more. It provides case management, automated classification and extraction, BPM/Workflow, and enterprise integration, to deliver a rapid ROI.
Intelligent Document Capture with Ephesoft can be purchased from Packt Publishing: https://www.packtpub.com/hardware-and-creative/intelligent-document-capture-ephesoft-second-edition
Or through Amazon:
http://www.amazon.com/Intelligent-Document-Capture-Ephesoft-Second/dp/178355858X/
###
Zia Consulting delivers Enterprise Content Management (ECM) solutions that address the content chaos needs of your enterprise to better manage and secure the most important documents. As the leading partners for Alfresco and Ephesoft, we bring start-to-finish guidance and customization based on your organization's needs. Our Adhere solution focuses on solving SharePoint and shared drives by identifying and classifying critical content, integrating ECM platforms, streamlining business processes, and then delivering content security, information governance, and federated search.