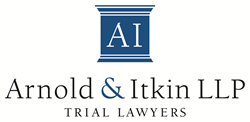 Houston, TX (PRWEB) August 31, 2015
On Thursday, August 27, 2015, the litigation team at Arnold & Itkin LLP successfully obtained two considerable verdicts against W&T Offshore. These victories were awarded within two hours of each other by Harris County jurors.
The first case of Wesley Fredieu v. W&T Offshore (Case No. 2013-06933, 269th District Court of Harris County) was tried by Attorneys Caj Boatright and Kala Sellers on behalf of Mr. Fredieu. According to court documents, the jury found W&T Offshore to be 100% liable for the damages Mr. Fredieu suffered when a fuel gas header exploded on a company offshore platform. The jury awarded Mr. Fredieu a verdict of $1,750,000 after less than three hours of deliberation.
Just two hours after the Wesley Fredieu v. W&T Offshore verdict was awarded, Arnold & Itkin was able to obtain another verdict for a different client battling against W&T Offshore. In Luke Meyers v. W&T Offshore (Case No. 2012-74366, 152nd District Court of Harris County), the jury awarded their client a $2,800,000 verdict. Attorneys Kyle Findley and Ces Tavares aggressively represented Luke Meyers—a crane mechanic who, per court documents, was injured after a piece of equipment fell over 50 feet onto his foot.
According to court documents, Mr. Meyers had alerted W&T Offshore that the cable that snapped and dropped the weight needed to be replaced six months prior. Despite this, the company allegedly ignored the recommendation and later refused to admit their liability for Mr. Meyers' injuries. After a two week trial, it took jurors less than two hours of deliberation to find W&T Offshore 100% at fault for the incident.
"We could not be more proud of our team's accomplishments," said Attorney Kurt Arnold. "Having back-to-back victories like this is a true testament to our team's creativity, hard work, and, most of all, our complete commitment to the success of our clients. We look forward to continuing to stand up for injured maritime workers in situations like this and helping them move on with the compensation they rightly deserve."
Winning two significant cases within such a short timeframe is a great accomplishment for Arnold & Itkin, but even more so for the injured workers they represented. Their firm is driven to help injury victims and their families recover after such serious accidents.
###
Arnold & Itkin is a seasoned maritime and offshore injury law firm that has represented countless clients. Over the years, the firm has remained dedicated to the one principle that has ensured effective representation of its clients: at Arnold & Itkin, results matter. In the last 5 years alone, the firm has recovered more than $1 billion for injury victims across the nation. Their team is comprised of highly skilled attorneys who are dedicated to helping people. If you would like to learn more about Arnold & Itkin and their record-setting case results, visit them online at http://www.offshoreinjuryfirm.com.