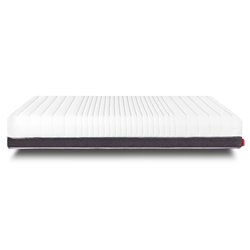 "Sleep is our secret weapon for success. Sleep fuels our dreams and ideas and invigorates the body and mind ... The return on an investment in sleep is achieving our potential." David Farley, CEO of SmartSleep.
Los Angeles, CA (PRWEB) September 01, 2015
Customizable Memory Foam and Latex Mattress Adjusts to Soft Medium or Firm
With its beta launch this week, Luxi by SmartSleep, Inc., promises to wake up the bedding industry as the newest disruptor in sleep, delivering unparalleled sleep and the most refined customer service experience to date.
"Consumers live and sleep differently today. Time is of the essence, and we need to improve the quality and quantity of our sleep to keep us up and running our busy lives," said SmartSleep CEO David Farley, an engineer and 30-year executive in the specialty sleep products industry. "To support consumers in achieving better sleep, we've created an adjustable product engineered to function more personally, and we've included an unprecedented consultation and engagement period with the purchase of this product to support consumers for years to come," said Farley.
The Luxi mattress features four layers of foam, memory foam and latex and a patent-pending Support Balancing Technology layer that enhances the softness and support within the layers. The technology provides cushioning comfort and the desired conforming qualities of memory foam but with a responsive elasticity that rebounds quickly when the sleeper changes position, supporting heavier body parts and relieving pressure points, such as where shoulders and hips rest on the mattress, similar to the support of an inner spring mattress with pocketed coils.
A layer of high density open cell memory foam, enhanced with latex, and a breathable quilted organic cotton cover, keep the mattress cool with robust air flow and offers an additional softness and better wear-life than more traditionally constructed memory foam mattresses.
David Farley and daughter Shannon Farley teamed up to create Luxi as an alternative to popular online "one-size-fits-all" mattresses that fail when it comes to sleepers with different comfort needs or preferences. The 10-inch thick Luxi mattress ships in a medium firmness but it can be adjusted for a softer or firmer feel. The consumer can unzip the covering to re-configure the three-in-one mattress to suit their individual needs and custom components are available if needed to insure each user's full satisfaction.
Luxi tops the vogue 100-day free trial of online mattress buying with 1,000 nights of support from Luxi's Sleep Experience Team of on-call experts including registered nurse sleep specialists to help owners achieve an optimal sleep experience. The sleep specialists will also aid consumers in reconfiguring the mattress as needed, eliminating the need to buy a new mattress if the consumer's preferences or requirements in a mattress change. Luxi also nurtures an online community through social media to provide information and support to users.
All of the elements of the mattress are designed to enhance sound sleep and extend sleep time, which sleep researchers say is essential to good health.
"Sleep is our secret weapon for success. Sleep fuels our dreams and ideas and invigorates the body and mind. The wages of hard work and insufficient sleep is burnout. The return on an investment in sleep is achieving our potential," said Farley.
The US-made Luxi mattress will be sold initially online at luxisleep.com and shipped free, compression-packed in a box, direct to the consumer. The company plans to roll out its fresh high-impact packaging at retail locations soon. The Luxi is available in twin, twin XL, full, queen, king and California king sizes, priced at $599.99 to $1099.99.