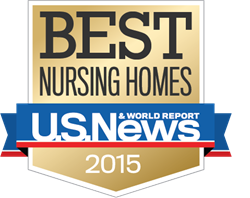 Excellence, then, is not an act but a habit.
Burien, Washington (PRWEB) September 11, 2015
Burien Nursing and Rehabilitation Center has been nationally recognized with a 5-star rating as one of the nation's 2015 Best Nursing Homes by U.S. News & World Report. 2015 marks the third year in a row that Burien has reached this achievement. Burien Nursing and Rehab has also consistently received a 5-star Medicare rating, the highest rating awarded, since 2010.
"This is a credit to our entire team that BNRC consistently receives good surveys," said Administrator Lynda Baldwin. "The professionalism of the team and the genuine connections we make with the residents and families are just two of the reasons we have good outcomes."
Using data from CMS, the federal agency that sets and enforces standards for nursing homes, U.S. News awards the "Best Nursing Home" status to homes that earned an overall rating of five stars in the areas of health inspections, nurse staffing, and measures of medical quality of care. BestNursingHomes.com also uses data from CMS to recognize five-star facilities on its site.
"Aristotle said, 'We are what we repeatedly do. Excellence, then is not an act but a habit.' The staff here understand that doing the right thing is the only option," said Baldwin. "It is a pleasure to work with the family at BNRC, where we care for each other as we care for each resident."
The staff at Burien Nursing and Rehabilitation Center believes the most effective way to provide compassionate care is to maintain high medical integrity, build a team spirit among staff, and provide friendly, beautiful surroundings for their patients and visitors.
Over three million Americans use skilled nursing facilities every year. Individuals and their families are often overwhelmed when it comes to finding the best nursing home for their loved ones. Many have come to rely on the U.S. News report that covers more than 15,000 nursing homes nationwide.
Burien Nursing and Rehabilitation Center is proud to be rated 5 stars by the center of Medicare Services. Located just ten minutes from downtown Seattle, Burien Nursing and Rehabilitation Center credits its strong relationships with area hospitals for reducing readmissions. Burien Nursing and Rehabilitation Center offers courteous 24-hour skilled nursing and rehabilitation to individuals seeking short-term, post-hospital rehabilitation, and long-term skilled care. More information can be found at http://www.burienrehab.com.