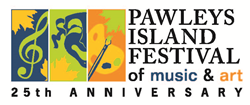 "Every year we search for entertainment that will keep the Festival unique and fresh. This year is really spectacular." Delores Blount, Executive Director
Pawleys Island, SC (PRWEB) August 31, 2015
The Pawleys Island Festival of Music & Art has announced its 2015 performance schedule in conjunction with its 25th (Silver) Anniversary.
The Festival, scheduled for September 25-October 17 at The Reserve Golf Club of Pawleys Island, has become one of the East Coast's most beloved music and arts festivals. Each year thousands of locals and visitors flock to the Lowcountry to hear nationally acclaimed artists and become part of the arts movement that is sweeping the South.
This year the event will kick off in historic, downtown Georgetown, South Carolina, where on September 25, the Festival officially opens with the Third Annual Seaside Palette. Artists will paint en plein air and compete for prizes in a judged competition. Adding to the excitement will be the Squonk Opera, a musical phenomena that should be on everyone's 'must see' list. While on Friday the music and arts troupe will be conducting workshops, on Saturday the Squonk Opera will return to Georgetown with three 30-minute shows in which art and music accompany blossoming, inflatable sculptures.
Rounding out the opening weekend will be the Sixth Annual Chalk Walk and Wet Paint Sale held Saturday, September 26, also taking place in Georgetown's Historic District.
"Every year we search for something that will attract audiences of all ages and keep the Festival unique and fresh. We wanted this year to be really spectacular," said Delores Blount, Executive Director of the Pawleys Island Festival of Music & Art. "After all, we celebrate our Silver Anniversary only once."
While the Festival continues to add events and include new artists, there are a number of events that are tried and true. This includes the Pawleys Island Wine Gala, which serves as the Festival's primary fundraiser. Now in its 16th year and scheduled for Thursday, October 1, it is always a crowd pleaser and a sell out. Almost as popular as the wide array of wines and knowledgeable vintners is the Gala's Reverse Drawing. Each person who purchases a $100 ticket has the opportunity to win $5,000 if his or her ticket number is the last one drawn that evening. All proceeds benefit the Festival and the educational programs that the Festival supports.
Performers for the 25th Anniversary include a mix of long time favorites and Grammy award winners. Headlining the event will be Aaron Neville, whose credits include four Platinum certified albums and four Top 10 hits--three of which hit Number One on Billboard's Top 100. Neville's recording of "Tell it Like It Is" has been included in a list of 27 new recordings being added to the GRAMMY Hall of Fame collection for 2015, which acknowledges singles and albums of all genres at least 25 years old that have a historical significance. Later this spring Neville will receive the Laetare Medal, the oldest and most prestigious honor given to American Catholics. Neville is being recognized as an individual "whose genius has ennobled the arts and sciences, illustrated the ideals of the Church and enriched the heritage of humanity." Joining Neville for the 25th Anniversary Celebration, and back by popular demand, are Steve Tyrell and Ken Lavigne.
Steve Tyrell, an award-winning vocalist, is a true renaissance man. In over four decades in the music business, he has achieved great success as an artist, producer, songwriter, music supervisor, and performer. With the gift and soul of a lifetime of experiences, producing hits for Grammy-winning artists ranging from Linda Ronstadt and Aaron Neville, to Rod Stewart and Diana Ross, Steve himself has sold hundreds of thousands of albums and gained a passionate following all over the world. His hits "The Way You Look Tonight," "The Simple Life," "Crush on You," and "The Sunny Side of the Street" are among his most popular. Earlier this year Steve released his latest album, "That Lovin' Feeling," which includes some of the greatest hits of the past century.
Ken Lavigne is a highly acclaimed tenor, who for the last nine years has performed on many world stages, including New York's Carnegie Hall. He has worked with producer David Foster, performed for His Royal Highness Prince Charles, and has released his fifth solo CD, entitled "Showtime." Recently he returned from an extensive tour that had him performing in San Francisco and Seoul, South Korea. Mr. Lavigne continues to tour extensively across Canada as a soloist with symphonies and small ensembles, showcasing his touring show entitled "The Road to Carnegie Hall."
Additional top-name performers include A.J. Croce, son of the late Jim Croce, Mike Farris and the Roseland Rhythm Review, who this year became the first artist to receive a Grammy for Best Roots Gospel Album, Natalie Douglas' Jazz Party, and Davis & Johnson and the Fabulous Equinox Orchestra.
The Pawleys Island Festival of Music & Art concludes on Saturday, October 17, with the annual tabled event which this year features So Good for the Soul: "A Tribute to Motown."
The Complete 2015 Performance Schedule Includes:
All events at The Reserve Golf Club of Pawleys Island unless otherwise noted.
September 25 – 26 9:00 am – 5:00 pm
3rd Annual Seaside Palette
Georgetown Historic District – Wet Paint Sale 9/26, 3-5 pm
Saturday, September 26 11:00 – 5:00 pm
6th Annual Chalk Walk and the Squonk Opera
Georgetown Historic District
Thursday, October 1 7:00 pm
16th Annual Pawleys Island Wine Gala
Friday, October 2 7:00 pm
AJ Croce
Saturday, October 3 7:00 pm
Aaron Neville
Thursday, October 8 7:00 pm
Mike Farris and The Roseland Rhythm Revue
Friday, October 9 7:00 pm
Natalie Douglas' Jazz Party
Saturday, October 10 7:00 pm
Steve Tyrell
Thursday, October 15 7:00pm
Ken Lavigne in Concert
Friday, October 16 7:00 pm
Davis & Johnson and The Fabulous Equinox Orchestra
Saturday, October 17 7:00pm
So Good For the Soul….A Tribute to the Music of Motown
(The Tabled Event)
About the Pawleys Island Festival of Music & Art
The Pawleys Island Festival of Music & Art, held at The Reserve Golf Club of Pawleys Island, is a 501(c)(3) which features four weeks of cultural entertainment and musical performances, including a Wine Gala that serves as the event's primary fundraiser.
For more information and the latest updates on the Pawleys Island Festival of Music & Art, along with sponsorship and membership opportunities, visit them online at http://www.pawleysmusic.com/ or call 843-626-8911.