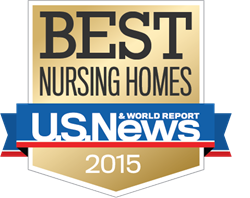 Coventry Court is dedicated to serving the Anaheim community and providing the best care to our patients
Anaheim, California (PRWEB) September 08, 2015
Coventry Court Health Center has been nationally recognized with a 5-star rating as one the nation's 2015 Best Nursing Homes by BestNursingHomes.com and U.S. News & World Report. Coventry Court also received a 5-star rating, the highest rating awarded, from Medicare.
Using data from CMS, the federal agency that sets and enforces standards for nursing homes, U.S. News and World Report awards the "Best Nursing Home" status to nursing homes that earn an overall rating of five stars. Facilities are examined in the areas of health inspections, nurse staffing, and measures of medical quality of care to determine what their overall five-star rating will be.
"Compared to the hip replacement I had a year and a half ago, the services and care I received at Coventry was far superior," said Peter, a former patient. "It was smooth sailing from the time I entered the facility to the time I left. I was up walking in less than 20 days without the use of a cane."
Over three million Americans use skilled nursing facilities every year. Individuals and their families are often overwhelmed when it comes to finding the best nursing home for their loved ones. Many are coming to BestNursingHomes.com to find the top-rated nursing homes across the country.
"Coventry Court is dedicated to serving the Anaheim community and providing the best care to our patients," said Shaun Dahl, Administrator of Coventry Court Health Center. "Our staff takes every effort to make each patient feel comfortable and provide a healing environment and, we are honored to reach this achievement."
At Coventry Court Health Center caring is the main concern. They believe the most effective way to provide compassionate care is to maintain high medical integrity, build a team spirit among staff, and provide friendly, beautiful surroundings for patients and their visitors. Although most transitions can be challenging, we strive to facilitate that process with an environment where patients and guests feel informed and comfortable. The team of qualified professionals help patients recover from surgery, injury, or serious illness. They understand the importance of creating a comfortable and nurturing atmosphere, whether patients are here for short-term treatment or long-term care. John L. Sorensen serves as the chairman of the board.