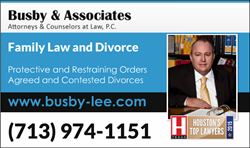 Houston, Texas (PRWEB) September 01, 2015
Michael Busby, a Houston, Texas divorce and family law attorney, provides commentary on the 41st Advanced Family Law conference of the Texas Family Law Bar. Once a year, the family law bar, gathers in San Antonio for 5 days of training and updates to the law. This year was a legislative year in Texas, thus the conference was of particular importance to lawyers who wish to stay current in all changes to the law.
It seems the main focus of the conference was the recent Gay Marriage opinion from the Supreme Court, reports Michael. Most of the family law bar, seemed to be happy with the decision. Economic incentive could be the reason. Yet some of the more senior lawyers, and several judges from rural counties expressed concern about the decision.
Updates were given to the Texas case law and differences between the 14 appellate courts of Texas were discussed. Final decisions from the Texas Supreme Court, which cleared up splits in authority from the appellate courts, where given particular attention by those in attendance. In attendance at the conference were several members of the Texas Supreme court, along with some Texas Federal Judges.
Health Insurance Portability and Accountability Act (HIPPA) as it applies to lawyers and their support staff also was a hot topic. Effective September 1, 2012, the Texas Medical Records Privacy Act provides additional protections to consumers. The Texas Act is broader in scope than HIPAA because it applies not only to health care providers, health plans and other entities that process health insurance claims but also to any individual, business, or organization that obtains, stores, or possesses PHI as well as their agents, employees and contractors, and lawyers.
The conference concluded with trial skills classes for the family practitioner. Lawyers use mock trial to practice for the real deal, that comes in the weeks after the conference.