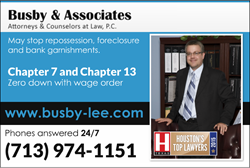 Having their home equity loans forgiven has allowed a couple of our clients to realize significant savings in their Chapter 13 repayment plans
Houston, Texas (PRWEB) August 31, 2015
Eric Southward, a Houston Bankruptcy Attorney, reports that earlier in March 2015, JP Morgan Chase (Chase) and the Department of Justice's United States Trustee Program (US Trustee) reached a national settlement to pay more than $50 million through payments, credits and loan forgiveness to Debtors in bankruptcy.
The basis of the settlement was Chase's admission that it filed tens of thousands of notices of mortgage payment changes in bankruptcy cases that not been properly signed under penalty of perjury, reports Mr. Southward. At the heart of the allegations was that Chase used the signature of former employees or employees who were not involved in reviewing the mortgage payment changes. Chase also acknowledged that in other cases, it did not timely file the mortgage payment changes or timely provide escrow statements to debtors.
This is an important settlement because the proper ongoing mortgage payment is necessary for many chapter 13 debtors to complete their repayment plan. Escrow requirements frequently change due to property tax increases and homeowner insurance cost changes. If the proper escrow amounts are not captured, it can put the debtors in the position of completing their repayment plan with a short escrow account. Bankruptcy relies on all parties providing accurate numbers that everyone can rely on.
Now that the settlement is finalized, the law firm of Busby and Associates is starting to see some of the results of the national settlement with its own clients. Over the past two months a few clients with Chase Home Equity Lines of Credit (HELOC) have received notices that Chase has forgiven the balances owed on their loans. According to Eric Southward, Managing Attorney with Busby & Associates, "Having their home equity loans forgiven has allowed a couple of our clients to realize significant savings in their Chapter 13 repayment plans. We had one client that was able to finish her case early because instead of paying her equity loan, she was able to pay all of her other creditors and finish her case early."
In the settlement, Chase agreed to audit all of its files and institute a new procedure to make sure the mortgage payment changes are timely and properly filed. Mr. Southward praised the US Trustees Office for the settlement. "Our law firm and our chapter 13 clients appreciate the work that the US Trustee put into achieving this settlement. In a jurisdiction where the Chapter 13 Trustee is paying the Debtors' mortgage payments each month, it is critical that we be given notice if the escrow amount is changing so we have to have a chance to review it. We would rather be in front of the Judge now to determine if the change is proper than two or three years after a case ends."
According to the United States Trustees Office, the settlement does not prevent homeowners from seeking additional relief from Chase is if is deemed appropriate. If you are in a bankruptcy or were recently in one, and had a mortgage loan with JP Morgan Chase, you may wish to review your mortgage statements and annual escrow disclosures with your attorney to make sure they accurately reflect the mortgage payments you made.
The case is In Re: David S. Belzak and Lynda J. Belzak, case number 10-23963, in the U.S. Bankruptcy Court for the Eastern District of Michigan.