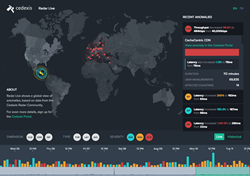 Radar Live brings IT professionals unprecedented visibility into the complexities of using the Internet to deliver value to their website, mobile app and Web app audiences.
(PRWEB) September 01, 2015
Cedexis, the leading provider of Internet measurement and real-time performance-optimization solutions, announces Radar Live, delivering the industry's first real user measurement (RUM) real-time interactive view into Internet performance and availability issues. The new service features a dynamic global map with drill-down capabilities, spotlighting Internet slowdowns and outages at-a-glance. IT professionals globally can leverage the free Radar Live application to quickly analyze why customers are experiencing performance issues trying to access their site. Radar Live provides an unprecedented look at real Internet performance issues that real users are experiencing… as they experience them.
Real-Time Anomaly Detection – Analyzed from Millions of Real Web Visitors
Cedexis Radar Live leverages billions of daily measurements collected by the free Cedexis Radar service. Visits to Radar community members' websites, such as Accor Hotels, LinkedIn, Le Monde, Microsoft, Shutterstock, Tumblr and more than 800 other companies, are continuously measured for Internet performance, and Radar Live analyzes this data in real time, using data science to surface anomalies – slowdowns and outages – as they occur, around the world. The Radar Live global map view provides an at-a-glance summary of current and recent Network, Cloud and Content Delivery Network (CDN) issues, including the countries and sub regions being affected and the type of service degradation being detected by the millions of Radar community end users.
Every detected performance event is substantiated and triangulated from multiple ISPs and Geolocations. Each anomaly includes details on the geographies of the Clouds, CDNs and ISPs impacted, as well as the number of Radar end-user sessions reporting the issue. For those seeking more detail, clicking from Radar Live into their free Cedexis Radar Portal account provides the exact timing, duration and impact of events.
Radar Live is unique in that it is based on real user measurements (RUM), crowd-sourced through the Internet performance benchmarking community, Cedexis Radar. Rather than "virtual" end users or "synthetic" agents, Radar measurements are taken from actual website and mobile application users, using real PCs, laptops and mobile devices, to capture the real-user experience. Cedexis Radar delivers real-time insight into global Web performance from billions of daily real-user-measurements, on 40,000 networks and every major cloud and CDN platform in the world.
Summary of Radar Live Observations for the 30-day period July 27 – Aug 27, 2015

4,305 significant performance events identified by the Radar community
2,360 CDN performance events, with a 50% or more degradation in service
136 Cloud availability outages, lasting from 5 minutes to hours
Millions of affected end users and lost business sessions
Cedexis Radar works in concert with Cedexis Openmix, the real-time, data-driven, global-traffic-management service, to deliver a virtuous feedback loop, automatically leveraging Radar data for global traffic management. As Internet outages occur around the globe, Cedexis customers' traffic is seamlessly routed around the problem to provide best performance and/or best reliability and/or best cost, based on its customers' requirements.
"We are excited to provide this free, real-time, real user (RUM) based view of global Internet performance issues. Radar Live brings IT professionals unprecedented visibility into the complexities of using the Internet to deliver value to their website, mobile app and Web app audiences. And, with Cedexis Openmix, we offer a solution to enterprises that automatically reacts to and mitigates Internet performance issues to help them deliver constant availability and exceptional quality of service for their end users," said Rob Malnati, VP of Marketing and Business Development at Cedexis.
Radar Live can be experienced, free, at live.cedexis.com.
About Cedexis
Cedexis provides Web-scale, end-user-experience monitoring and real-time traffic routing across multiple clouds and networks. Cedexis Radar crowd sources billions of real user measurements (RUM) a day from a community of over 800 enterprises. Radar data provides real-time visibility into how cloud/network performance is impacting the experience of Web and mobile application users. Cedexis Impact provides the correlation of end-user performance to business KPIs, enabling enterprises to maximize Web performance investments. Openmix uses this insight to route traffic for best performance, or availability, or cost, or any mix of the three. Cedexis is trusted by over 800 global brands including Accor Hotels, Airbus, Cartier, Comcast, LinkedIn, Mozilla, Nissan and Shutterstock. Cedexis is headquartered in Portland, Oregon with offices in Paris, France, San Francisco, CA, Brooklyn, NY and London, UK.
Press contact (USA-Canada):
Frances Mann-Craik
Addison Marketing
Mail: frances(at)addisonmarketing(dot)com
Tel: +1 408 868-9577