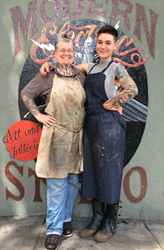 By inspiring a vigorous questioning of the function of art, erotic art pushes us to seriously question ourselves.
San Francisco, California (PRWEB) August 31, 2015
Modern Electric Studio is delighted to announce two outstanding solo exhibitions showcasing artists Suzanne Shifflett and Tanya Wischerath. Shifflett's In The Realm of The Senses may be seen at the Austin Law Group on September 24 to December 20, 2015, by appointment, and Wischerath's Future Acquaintance will be exhibited at Blackbird from September 2 to November 12, 2015. The exhibitions celebrate neo-classical art, gender-bending themes and female sexuality.
At the forefront of artistic reflection about identity, both artists represent the artistic dialogue about non heterosexual imagery and desire, a practice that has been for the most part ignored by museums and only recently studied in exhibits such Act Up, Harvard University (2009) and Hide/ Seek: Difference, Smithsonian Institution's National Portrait Gallery (2011) signaling the beginning of true critical engagement with art that reflects a non heterosexual view of the world. Modern Electric Studio owner Suzanne Shifflet is a renowned tattoo artist as well as an accomplished neo-classical painter. She has long been committed to the fostering of creative environments and exchange and in fact, Wischerath studied the art of tattoo under Shifflett. Today a richly cooperative working relationship has evolved, the results of which are truly phenomenal.
While for centuries, subject matter of traditional portrait painting has been powerful men or the women that "belonged" to them, Shifflett and Wischerath are in leagues with various contemporary artists such as Katrina del Mar who creates a new way of looking at femininity, through strong and often tough portraits, or the unabashed beauty of Cass Bird's photographs and Sophie Wallace's beauteous photographs. Building on the momentum of the 1970s feminist movement and the artists inspired by this social change Shifflett and Wischerath successfully cultivate a sense of sexual appeal and strength in works like Shifflett's Mink (2015) and Wischerath's Postcard (2015).
There is a commonality with artists who similarly use the conventions of European painting, such as Kehinde Wiley who has earned his reputation for his satirical portraits that mimic historic painting, replacing white European equestrian with a rider of African descent as well as Awol Erizku whose replicas of famous portraits substitute original historic subject for a person of African descent. Likewise Shifflett and Wischerath challenge mainstream or heterodominant visualities and notions of socially coded ideas of normative sexuality, and rejects institutional, educational, religious, political constraints on the expression of sexuality.
Today, Shifflett and Wischerath share a studio at Modern Electric, the rich exchange results in unusually high craft and haunting and provocative imagery. Portraits of hybrids, of women as objects and participants of feminine desire, and other counter-culture images come to life in these artists' work with both gravity and extraordinarily free creative sensibilities. Shifflett refers to this growth as the "hive mentality" a reference to the early twentieth century Parisian Montparnasse colony for artists – la Ruche (the Hive), a work live space for the École de Paris and for Avant garde and in Wischerath and Shifflett's creative space, the artists share techniques, inspiration in one another's work.
Not to be missed, these two exhibits are rare and lustrous views into female sexuality. The stunning work is significantly engaged with the politics of sex and beauty and is alternately shocking, beautiful, intimate and erotic as well as deeply germane to contemporary critical dialogues about art and meaning. Modern Electric Studio invites art patrons to attend the following exhibitions:
In The Realm of The Senses
Paintings by S .M. Shifflett
Austin Law Group
799 Castro Street
S. F. CA 94114
415 282 4511
Shown by appointment only M-F, 10 TO 4
http://www.austinlawgroup.com
Future Acquaintance
Recent paintings by Tanya Wischerath
Blackbird
2124 Market Street
San Francisco CA 94114
9/12/15 to 11/12/15
9/12/15 - Opening
6:00pm to 8:00pm
http://www.blackbirdbar.com
About Suzanne Shifflett
Deeply introspective and accomplished, Shifflett who holds her BA, Fine Art, Parsons School of Art, New York and the Portland School of Art. Her work has included in the ArtSpan Juried Art Auction and exhibited at Sin City Gallery, Las Vegas. Shifflett's works are characterized by an unflinchingly tender examination of her subjects, their humanity exposed in their nudity, and the unembarrassed provocative beauty celebrated as if to say that beauty and sensuality take many forms. Drawing attention to the absence of LGBT people from historical and cultural narratives as seen in her stunning Christological painting Aarick. Shifflett incisively points out the thin line between social inscribed viewpoints and ideas of obscenity:
"For those who are morally or otherwise opposed to artists who make them ask "what is art: there is tremendous value in beginning to question why a work of art inspires so much feeling, even if it is outrage. I think the outrage lies in the not so obvious: much of the work deemed obscene isn't about lewdness, but about a hidden self-questioning brought to the surface. We see "obscene" images daily; in the culture at large, we do not blink an eye at a fourteen year old girl made up and posed seductively on a magazine cover, yet certain types of expression are subject to more vehement scrutiny than others. By inspiring a vigorous questioning of the function of art, erotic art pushes us to seriously question ourselves."
Shifflett is exhibiting in the group exhibition, Intimately Female, at the Art Motel-Life is Beautiful Festival, September 25-27, 2015, in Las Vegas, Nevada via Sin City Gallery. She is featured in numerous publications for her artistry and craft. For more information, please visit http://smshifflett.com.
About Tanya Wischerath
Likewise, activist, painter and tattoo artist Tanya Wischerath engages in figurative work expressive of feminine and lesbian sexuality and intimacy in the footsteps of historic artists such as Harriet Hosmer, Edmomia Lewis, Emma Stebbins and Romaine Brooks. However, unlike these artists, Wischerath's work such as title (date) what piece is this?is produced and showcased in an increasingly public realm and as such contributes to the rapidly evolving dialogue of non-patriarchal visions of sex and sexuality. Many of the works contain esoteric imagery such as Unmade (2015). Wischerath attended Moore College of Art and Design, Philadelphia and the California College of Art. The Danish-American painter is the two time recipient of San Francisco Bay Guardian's Best of the Bay "Best Tattoo Artist" Award (2013 and 2014). Wischertath's Mural in Clarion Alley, Divine visibility, celebrates the activism of trans women who have worked tirelessly for the visibility and basic rights of their trans sisters over the past 50 years. As her career as grown, so has the recognition and last year 31 Years (2014) was chosen for the 2014 National Portrait Gallery, London, Annual Portrait Contest. For more information, please visit http://tanyawischerath.net
About Modern Electric Studio
There are 4 ingredient needed to make a successful artist. Talent, vision , dedication, and master of craft. If an individual posses these, the next step is to figure out away to afford to pursue ones vision. Suzanne M. Shifflett opened up Modern Electric with this in mind. She wanted her love of painting to be combined with her love of tattooing. Tattooing is all about being a conduit for the wearers vision. It just so happens to pay well enough to afford the artist to pursue her own vision on canvas.
Shifflett opened Modern Electric Studio in 2007 in the mission district of San Francisco. There was a young artist named Tanya Wischerath renting a painting studio in the same building. She approached Shifflett about a tattoo apprenticeship, Because of her talent she was quickly offered one. They soon out grew the tattoo studio and wanted to be able to paint together. So they moved to a bigger studio that affords them this luxury. As it turns out this was a great move for them not only to have space to paint but for there growth as artists. They play off each other so beautifully. They share techniques and ideas very freely. They find inspiration in each others work that shines through with every brush stroke. They have grown so much as artist in the few years they have been together.
The studio has been in many publications. It is located at 60 Otis, San Francisco, California. For more information, please visit http://modernelectricstudio.com.