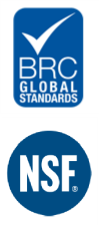 The Global Markets programme will provide a simpler path towards full certification whilst also giving recognition for making those first vital steps
London, UK (PRWEB) September 01, 2015
BRC Global Standards and NSF International will be promoting the BRC Global Standard for Food Safety Issue 7 and the Global Markets Programme. As certification to the BRC Global Standard for Food Safety continues to grow, BRC and NSF International are working together to provide opportunities to recognize and encourage the development of food safety systems in small sites where the full requirements of the Standard may add less value, and in sites that are still developing food safety management systems. The new Global Markets programme will now enable audits and recognition against a set of requirements of the Standard identified as basic level and a further set of requirements at intermediate level.
Mark Proctor, CEO of BRC Global Standards, said: "The development of the Global Markets programme has provided a great opportunity in emerging markets, such as India, to provide effective stepping stones for factories to progress towards full certification. The levels also provide recognition of attainment at basic and intermediate levels, which are increasingly recognized by customers as providing assurance about the food safety systems operated at their supply sites. We are delighted to be able to work jointly with NSF International to deliver this message on the upcoming road shows.''
Peter Bracher, Managing Director of NSF International, said: "During my work in India I've seen many good food operations who shared a passion to meet the full BRC certification Standard and so drive their export potential. In practice this can be a big step, so I'm delighted to see that the Global Markets programme will provide a simpler path towards full certification whilst also giving recognition for making those first vital steps. All of us at NSF International are happy to support the BRC with their new initiatives.''
Roadshow Agenda
BRC

Introduction to the BRC Food scheme and the Global Markets Programme
Analysis of BRC certificated sites in India
Overview of the Global Standard for Food Safety Issue 7 requirements
Case Study

From a recently certificated site: why they decided to go for certification, how they prepared, how they found the process, recommendations for others
NSF International

Explanation of the audit process
How NSF International can support sites
NSF International capabilities
Relationship with BRC Global Standards
BRC

Explanation of the Global Markets programme – an ideal entry route
Notes to Editors:
About BRC Global Standards
BRC Global Standards are the world's biggest provider of safety and quality standards programmes for food manufacture, packaging, storage, and distribution. BRC Global Standards are generated with the help of technical specialists, retailers, manufacturers and certification bodies from around the world, so everything is based on practicality, rigour and clarity.
The BRC Global Standards certification scheme offer comprehensive support to help new and established businesses to achieve and maintain their quality and safety aims.
For more information please visit http://www.brcglobalstandards.com
Media Contacts:
BRC Press Office +44 (0)20 7854 8924 / +44 (0)7921 605544