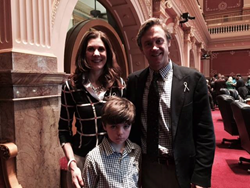 It truly means the world to us to have so many states come together and support us as we continue to fight for a cure for those we love the most
Bethesda, MD (PRWEB) September 01, 2015
Today marks the first day of Hydrocephalus Awareness Month, a month dedicated to raising awareness about a lesser known medical condition that has no cure and impacts over 1 million Americans. Seven states have joined the United States Congress in proclaiming September as Hydrocephalus Awareness Month. The Hydrocephalus Association is grateful to the Governors of Connecticut, New York, Virginia, Tennessee, South Carolina, Illinois and Colorado for working with our local community leaders to bring critical attention to this challenging neurological condition.
"We are truly so humbled and impressed by how many states have taken the time to research what hydrocephalus is, then come together and stand by our community and recognize that hydrocephalus is an extremely serious condition that affects millions of individuals every day. It truly means the world to us to have so many states come together and support us as we continue to fight for a cure for those we love the most," affirmed Middlebury, Connecticut Hydrocephalus Association WALK event Co-Chairs Mary Wrenn and Jenifer Alex Jeans, who is also an identical twin to Alexandrea, 37, who acquired hydrocephalus 6 weeks after birth.
Hydrocephalus is a neurological condition where excessive fluid builds up in the brain. The only way to treat the condition is with brain surgery, typically the implantation of a medical device known as a shunt, which as a 50% failure rate within the first 2 years in children. Individuals living with hydrocephalus are relegated to a lifetime of repeated brain surgeries, often accompanied with other learning and/or medical challenges. However, advances in new treatment methods or means of prevention of the condition have been slowed by a lack of attention and research funding around the condition.
"I was so proud and excited when we saw a large envelope from Governor McAuliffe's office in our mail. My family was so proud. My daughter, Marci, was diagnosed at age 13 in 2005. She has an ETV (endoscopic third ventriculostomy) to treat her hydrocephalus, a newer treatment, but still brain surgery, and has had one revision. Despite two brain surgeries and living with hydrocephalus, she graduated from Hofstra University in May of 2014 and is pursuing a career in television. We can make more success stories like Marcie's with awareness and government support," stated Annie Mason, co-chair with Kayleigh Brodeur of the Hydrocephalus Association Virginia Community Network.
Local volunteers around the country worked with their elected representatives to make these proclamations a reality. The Hydrocephalus Association would like to extend our deepest gratitude to Tennessee Governor Bill Haslam, who was joined by the former Miss Tennessee Hayley Lewis, New York State Senator John J. Flanagan, and Colorado State Senator Michael Johnston and State Representative Angela Williams for their support of our hydrocephalus community. In addition, we would like to thank Chicago Mayor Rahm Emanuel for proclaiming September 9th as Hydrocephalus Awareness Day in Chicago and the City of Grand Island, New York, for proclaiming September 19th as Hydrocephalus Awareness Day. On the national level, the unwavering support of U.S. Congressman Leonard Lance (R-NJ) and U.S. Congressman Andre Carson (D-IN), Co-Chairs of the Congressional Pediatric and Adult Hydrocephalus Caucus, have allowed our community to advocate for substantive changes for hydrocephalus patients on a national level, opening doors to new research opportunities that could result in alternative treatment options, forms of prevention, and a cure.
Learn more about hydrocephalus and the work of the Hydrocephalus Association by visiting http://www.hydroassoc.org.
About the Hydrocephalus Association:
Founded in 1983 by parents of children with hydrocephalus, the Hydrocephalus Association (HA) has grown to be the nation's largest and most widely respected organization dedicated to hydrocephalus. The largest advocacy group dedicated to hydrocephalus, HA is fighting on all fronts to improve the quality of life for people living with the condition. HA began funding research in 2009. Since then HA has committed well over $3 million to research, making it the largest non-profit, non-governmental funder of hydrocephalus research in the U.S. For more information, visit the Hydrocephalus Association web site at http://www.hydroassoc.org or call (888) 598-3789.