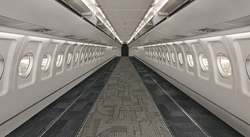 The development of Sky-Tiles provides a unique opportunity for airlines and manufacturers.
Jacksonville, FL (PRWEB) August 31, 2015
SkyPaxxx and Interface have agreed to work together to change the way airlines and aircraft manufacturers view, purchase, and maintain their carpet through a long term, exclusive agreement. "We could not be happier to have been trusted with telling the Sky-Tiles story." Says Rick Lockhart, president of SkyPaxxx. "The development of Sky-Tiles provides a unique opportunity for airlines and manufacturers to provide a cleaner, more attractive, and environmentally conscious cabin while reducing costs, required maintenance, logistics hassles, and the burden on purchasing. It is truly exciting to be involved in a product that benefits passengers, purchasing, maintenance, finance, engineering, flight crew, and logistics."
Sky-Tiles are a revolutionary type of modular aviation carpet. The Sky-Tiles design and manufacturing process creates a floor that will not shrink or stretch, has no need to be serged, is delivered to the aircraft ready to install, allows for selective replacement, reduces waste, prevents microbial growth and related odors, is 100% recyclable, will not fade, lasts longer, is easier to remove and install, and is easier to maintain. Through SkyPaxxx, Sky-Tiles can be provided for any aircraft type and any fleet size.
SkyPaxxx is the fastest growing provider of aircraft seating and interior repairs and solutions providing customized solutions to the world's airlines, leasing companies, OEMs, and MRO providers. With services including: passenger and crew seating repair and overhauls, flooring, galley and lavatory repair and overhaul, customer cushions and covers, parts manufacturing, modification, engineering, IFE integration, component repair and refinishing, armcap repair, plastics repair, and seat and interior supply solutions, SkyPaxxx provides a complete suite of services for every aircraft type and fleet size.