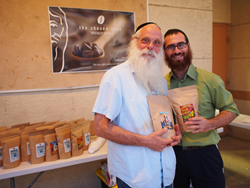 First and only Hasidic artisan coffee roasters
(PRWEB) September 01, 2015
Combining a love for G-d and passion for quality coffee, partners Mendy Dalfin and Moshe Ruza launched the first and only Hasidic owned artisan coffee roaster worldwide.
As artisans, Mendy and Moshe ensure the coffee meets the highest of standards, including Organics, Fair Trade and kosher certifications. Saturdays are off and prayer proceeds roasting, placing G-d above all else.
The brand is Biblically themed with coffees named for Moses, Abraham and Solomon.
Specialty coffee beans are sourced from 15 regions around the world and The Chosen Bean also offers seasonal coffees (such as pure Jamaica Blue Mountain or Kona).
The Chosen Bean selects the very best coffee beans, bursting with flavor and freshness. The coffee beans are small batch roasted, resulting in a smooth, flavorful, and balanced cup of coffee.
The Chosen Bean is a South Florida based company.
The coffee can be purchased at http://www.TheChosenBean.com or at finer markets in NY and FL