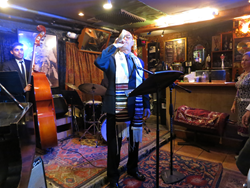 "Melding the vitality of jazz with traditional liturgy creates a deeper level of introspection. " Rabbi Steven Blane
New York, New York (PRWEB) September 15, 2015
Sim Shalom, the innovative online synagogue will nourish spirits by fusing jazz, prayer and global community at its Yom Kippur Jazz High Holiday service on September 23 at 10:30 am at the Bitter End in New York City. For those not able to attend live, the event will be streamed with worldwide participation via live chat.
Yom Kippur, the holiest day of the Jewish calendar, is a day of fasting and reflection to atone for one's sins, and to seal a positive path for the New Year. Abstaining from eating and drinking for twenty-five hours allows the physical self to concentrate on the spiritual self. " Melding the vitality of jazz with traditional liturgy creates a deeper level of introspection," according to Sim Shalom's founder Rabbi and Cantor Steven Blane. Connecting with congregants from across the globe strengthens the universality of Judaism and heightens the journey of human forgiveness. The Yom Kippur service will last approximately two hours, and include Yizkor for congregants wishing to honor a departed loved one.
Congregants from across North America, in cities and rural areas, and far beyond can partake in the service simply by clicking here at 10:30am EST.
Rabbi Blane's cantorial vocals will be joined this year by quartet Tal Ronen on bass, Jack Glotman on piano, Carol Sudhalter on saxophone and flute, Frank Levatino on drums and others to be announced, including the sounds of the blowing of the shofar. To view last year's Yom Kippur morning service visit Sim Shalom's website here.
Following the days observance a Neelah Service will be held which will begin at 5:00 pm on the Upper West Side. Bagels and juice will be served to break the fast.
To purchase tickets for the live service at the Bitter End, Neelah on the Upper West Side, or join the service free online, or for more information visit Sim Shalom or call 201-338-0165.
About Sim Shalom and JSLI
Sim Shalom is an interactive online Jewish Universalist synagogue that is liberal in thought and traditional in liturgy. Created in 2009 by Rabbi Steven Blane on Manhattan's Upper West Side, Sim Shalom offers a means of connecting the unconnected. Rabbi Blane leads accessible and short Kabbalat Shabbat services every Friday night using a virtual interface and additionally Sim Shalom provides online education programs, Jazz concerts, conversion and life-cycle ceremonies along with weeknight services at 7:00PM EST led by Rabbis and students of this online community.
Rabbi Blane is also the founder and director of the Jewish Spiritual Leader's Institute, the online professional rabbinical program.
Sim Shalom, a non profit 501 (c ) (3) tax-exempt organization, nurtures a Jewish connection through its mission of innovative services, creative education and dynamic outreach to the global community.