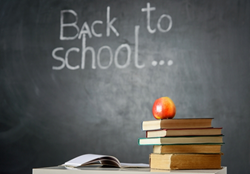 Go through everyone's closet and throw out any old clothes
Chicago, IL (PRWEB) August 30, 2015
The Federal Savings Bank knows that first-time home buyers with young families are preparing to send the young ones off to school for another year of learning and growing. After recently purchasing a home, it's important for families to ensure their houses are prepared for the hustle and bustle of the school year.
The Federal Savings Bank suggests follow these three tips to ensure optimal organization this season:
1. Make a calendar
With dance lessons, birthday parties, meetings and doctor appointments, it can be easy for something to slip into the cracks and be forgotten. Create a chalkboard calendar for the family to reference and mark up throughout the year in one easy and accessible location, such as the kitchen. If calk sounds too messy consider a marker board. Remember to leave cartoon messages for the kids to make their morning uplifting.
2. Purge the closets
After moving to a new home, there is some clothing that may have made the cut, but no longer are necessary or they don't fit. Go through everyone's closet and throw out any old clothes, shoes or other items that the family doesn't need anymore. This is important regarding a new home because it stops the transfer of all the clutter from the old home.
3. Organize the entryway
The traffic coming in and out of the house can be substantial. Make it easy for kids and adults alike to stay organized with bags, shoes and lunchboxes. Make cubbies and hang hooks to keep everything neat. This make for a great excuse to furniture shop for drawers or shelves.
If looking to purchase a new home and are in need of financing, contact the Federal Savings Bank, a veteran owned bank, to learn more about mortgages.