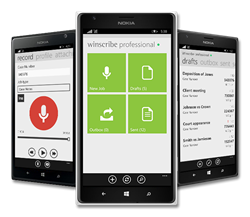 (PRWEB) September 02, 2015
Mobile working is increasingly more important, as business professionals are looking to be more productive while on the go. It seems that everywhere new mobile apps are being launched, and mobile device usage as a whole is something people around the world are becoming used to as a regular part of their work and personal lives. What's more people are expecting mobile versions of their favorite software.
While some software providers are simply adapting their programs to display on mobile devices, Winscribe has been working to adapt their speech technology software to accelerate the way people work when using their smartphone or tablet devices. Offering a true mobility suite is about more than scaling a solution to fit on a smaller screen. Winscribe envisions mobile developments as enabling user productivity that is intuitive and empowering.
New Operating Systems - Creating Dictation That Allows Users More Freedom
With the latest mobile enhancements, Winscribe clients are no longer confined within a space, network or device. This principle of freedom and user choice is something that Winscribe's new mobility suite is embracing and taking to the next level. Our approach is to allow dictation from whatever device works best for the user. BYOD (bring your own device) is something that we have been exponents of for a long time and with our new developments Winscribe's products support this more than ever..
This latest updates to the Winscribe Professional Mobility Suite expands with the addition of Windows tablets to supported devices. The Winscribe Professional for Windows app allows professionals to quickly create documents from a tablet or PC running Windows 8, 8.1 or 10.
The latest ABA report showed that 9 out of 10 lawyers are working on mobile devices. After this latest release the Winscribe platform is across four mobile applications, including Windows, a full server based solution and the web platform.
To support a wider range of recording devices Winscribe has partnered with other leading companies such as: Philips, Olympus and Grundig. Winscribe users can now dictate where, when and how they want to, on whatever devices or combination of devices that best suits them best.
Flat Design & New Recording Interface - Creating Intuitive Software That People Enjoy Using
A good software solution, in any context, needs to be easy to use and unobtrusive. However, with mobile speech technology, Winscribe wants to ensure users are able to focus on what matters and can document work efficiently.
Allowing users to quickly and easily focus on their work was a major objective with the release of Winscribe's mobile solution. People using the software needed a simple interface that was easier to use. At the same time, the software needed to be more flexible and powerful, without becoming more complicated to use.
To achieve simple, yet powerful mobile applications our design team is incorporating a more modern, flat design style. The latest releases for Windows tablets and phones and iOS devices exhibits the intuitive and modern interface design. Pioneered by Microsoft & Apple, flat design streamlines and simplifies the applications, whilst improving their speed. Flat design works well for mobile as items on the screen become easier to read or click.
Winscribe Professional Mobility Suite gives users greater ability to review, send and manage their dictations. Users who have completed a dictation can send it to a central location to be processed, enabling intelligent and centralized management.
Empowering Users With Greater Mobile Options & More Powerful Productivity Tools
Supporting legal professionals means supporting the people behind those professionals. Through this release, Winscribe put a lot of effort into developing a unified interface and management tool and are doing more work than ever to deliver training and remote support to help professionals get up and running as fast as possible.
A key element for ongoing success is empowering professionals outside the office. The ability to use Winscribe Dictation on the world's most popular mobile devices is a huge step in that direction. Giving those users optional speech recognition and a flexible transcription and workflow platform, is Winscribe's most important mission
Dictation authors are able to access their files at any time to see what stage they are at. They can then send the files on directly from their mobile app. Winscribe mobile users stay connected, productive and focused on getting the job done without sacrificing any mobility.