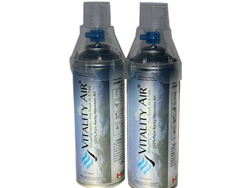 There's plenty of evidence of the benefits and a growing demand for clean air.
(PRWEB) September 02, 2015
They're calling canned air the next bottled water. Yes, the stuff filling every breath is for sale.
Before the eye rolling starts and people mention how often a sucker is born, take a moment and understand why this is a fast growing industry. First, the market is broken down into two categories: pure oxygen and air.
The human body needs oxygen (obviously) but for athletes, oxygen is critical. It greatly improves performance, shortens recovery times and enhances the ability for bodies to build muscle. Normal air is about 21% oxygen depending on elevation, making a quick breath of pure oxygen like a shot of caffeine to the system.
Was it mentioned that oxygen is an amazing hangover cure? Yep, that mental earthquake is from a lack of oxygen.
Then there's bottled fresh air. This might seem absurd to anyone not smothered routinely in oppressive pollution, but in places like China that suffer from poor air quality, millionaires are being made selling fresh air.
Moses Lam is the Founder and CEO of Vitality Air, a Canadian premium air company looking to make an impact in both product categories. "There's plenty of evidence of the benefits and a growing demand for clean air." Moses says, "Vitality Air offers a top quality product that's easy to use."
Most people will have a chuckle at the canned and jarred air that has exploded on the Asian market. Once opened, everything is gone in a second. Products like Vitality Air however, are sold in pressurized cans that offer dozens of breaths on demand. Far more air to the customer and far less waste.
When asked about where they see their product going, Moses says "There is already a huge market for clean air in Asia, but pure oxygen will soon become the next Red Bull. Athletes, gamers, party goers - soon it will be an energy drink in one hand, oxygen in the other."
Bottled water had plenty of skepticism when it first hit the market, now it's completely commonplace. So will canned air hit the same jackpot? The team at Vitality Air are betting on it.