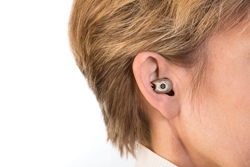 From home hearing tests to affordable devices that are almost entirely undetectable, there are a variety of new options that make it easier for caregivers to provide hearing health solutions.
Elk Grove Village, IL (PRWEB) August 31, 2015
In preparation for this November's National Family Caregivers Month, and citing an array of new studies, Etymotic Research, maker of the BEAN™ personal sound amplifier, is offering caregivers "7 Reasons to Care about Hearing Health." The information provides a rationale for using personal sound amplifiers as a way of coping with a variety of home healthcare challenges, specifically as they relate to caring for the elderly. Fifty percent of those over 75 have some degree of hearing loss.
Addressing the hearing health needs of someone receiving care from a friend or family member is critically important because hearing loss impacts the effectiveness of care, the well-being of the caregiver as well as other members of the family. And, while caregiving isn't exclusively a female responsibility, according to the Family Caregiver Alliance, an estimated 66% of caregivers are female. The National Alliance for Caregiving also found that 33% of working women decreased work hours and 29% passed up a job promotion because of caregiving.
1. Hearing health in seniors is about more than hearing.
A 12-year study conducted by the neurology department at Johns Hopkins School of Medicine found that untreated hearing loss increases the risk for dementia. Hearing loss can affect concentration, memory and planning skills, which affect structural changes in the brain. The study showed a direct correlation between hearing issues and the loss of these capabilities.
2. Hearing loss can be isolating.
While loss of hearing can be considered a normal part of aging, it can be very isolating. Seniors with hearing loss are known to withdraw, avoid social situations and become depressed. And because the onset of hearing loss can be gradual, sometimes it goes unnoticed.
3. Addressing the need to hear better in certain situations reduces stress.
It's just common sense that caregiving is easier when caregivers are able to communicate properly with those receiving care. Whether the communication is about taking medication, hearing doctors' instructions or assisting with simple daily routines, it's less stressful when information can be clearly offered, and feedback given.
4. Hearing is a safety issue.
Hearing loss can impair the ability to respond to safety warnings, hear doorbells and alarms and may even lead to increased falls. The Centers for Disease Control and Prevention report that one out of every three people over the age of 65 falls each year. Typically, the causes of a fall are related to vision problems, arthritis or simply a degenerating physical condition, however, researchers at Johns Hopkins and the National Institute for Aging found that seniors with mild hearing loss are three times as likely to have a history of falls. For every 10 decibels of increased hearing loss, the risk of falling increases 40%.
5. Overcoming denial of hearing loss doesn't have to be confrontational.
Seniors who experience a loss of hearing often deny hearing loss or don't believe that they have a problem. They may accuse people of mumbling, or blame background noise for an inability to hear. Seniors know that hearing loss is a sign of aging, and often don't want the reminder. But whatever the resistance, a non-confrontational approach can be used. Make sure the person being cared for knows how much you value the relationship, and why addressing hearing health is so important. If said without frustration or criticism, the appeal stands a much better chance of leading to a workable solution.
6. There are new, modern hearing health solutions.
From home hearing tests to affordable devices that are almost entirely undetectable, there are a variety of new options that make it easier for caregivers to provide hearing health solutions. Reputable and reliable companies like Etymotic Research, with products available online, are making a big difference.
7. Personal Sound Amplifiers can be purchased and presented by caregivers.
Personal sound amplifiers are one solution that anyone caring for the elderly should be aware of. They're easy to use, ready to wear right out the box, can come with multiple ear tips and are easily removed. Particularly for people who only need to hear "one click louder" in certain situations, and for whatever reason are unwilling or unable to see an audiologist for a full hearing evaluation, high fidelity personal sound amplifiers are an affordable and practical solution.
About Etymotic Research
Etymotic is a research, development and manufacturing company that designs high-fidelity personal audio products and hearing wellness solutions to assess, enhance and protect hearing. For over 30 years, innovation and education have been central to Etymotic's mission. Etymotic is one of the most respected leaders in high-fidelity audio, hearing conservation and hearing enhancement devices. For more information about Etymotic, its hearing wellness mission and its products, please visit http://www.etymotic.com