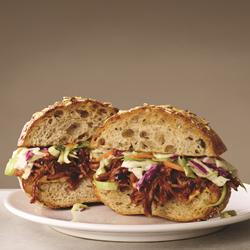 BOSTON, MA (PRWEB) September 01, 2015
Inspired by the flavors of fall, Au Bon Pain, an internationally recognized leader in the fast-casual category, announces the launch of its new fall menu lineup. Customers at participating cafés can now kick off the season with the Oven-Hot BBQ Pulled Pork Sandwich and a variety of sweet pumpkin bakery treats including their famous CroisBuns with a pumpkin filling. Fall menu items will be available September 1-November 2.
Au Bon Pain's new Oven-Hot BBQ Pulled Pork Sandwich adds a savory addition to the fall lineup and is made with slow roasted pulled pork in a smoky BBQ sauce, with a zesty spread and crisp Vidalia Coleslaw on a toasted multigrain roll.
Featuring an array of bakery and beverage items, guests can also now cozy up to autumn weather with a handcrafted bakery experience. New seasonal offerings include Pumpkin CroisBuns, Pumpkin Muffins with a sweet cheese filling, Pumpkin Coffee Cakes, and Pumpkin Pie Lattes, available hot or iced.
"We carefully selected these new fall menu items to offer our customers a variety of innovative ingredient combinations alongside classic flavor profiles to highlight the traditional tastes of the season," said Katherine See, Au Bon Pain's VP of culinary innovation. "Each recipe we develop focuses on using high quality ingredients, keeping in mind proven items that our customers enjoy, and hopefully creating new favorites along the way."
Additionally, Au Bon Pain demonstrates its continued commitment to artisan products by launching a new line of Reserve Coffee Blends, a rotating lineup of rare and unique coffees from around the world. The first Reserve Blend available this fall will be Sumatra, a smooth, full-bodied roast from Indonesia.
To highlight Au Bon Pain's CroisBun and Croissants, participating locations will offer free Mini Chocolate Croissants on September 9, from 2 p.m. to 5 p.m. Following this sampling day, participating cafés will offer two for $5 Croissants and CroisBuns September 10-November 2.
"As always, we are striving to offer a delicious variety of healthful items and indulgent treats, allowing our customers to choose the café experience that's right for them." said Maria Feicht, Au Bon Pain's chief branding officer. "We work with nutritionists and medical professionals in creating our menus to ensure we stay true to our brand commitment of balance and high-quality ingredients, and we are proud to offer this new flavor-packed fall lineup that offers something for everyone."
The full fall menu:*
BBQ Pulled Pork Sandwich - Slow roasted pulled pork with a smoky BBQ sauce, zesty spread, and Vidalia Coleslaw on a toasted multigrain roll.
Turkey Club Sandwich - On toasted country white, no antibiotics ever turkey, cheddar, applewood smoked bacon, tomatoes, field greens, and mayo.
Harvest Turkey Salad - No antibiotics ever roasted turkey, with romaine & spinach, cranberries, grapes, Granny Smith apples, goat cheese, walnuts, and maple walnut vinaigrette.
Harvest Pumpkin Soup - Simmered with onion, celery, and carrots lightly seasoned with fresh ginger and cinnamon (vegetarian).
Turkey, Kale & Wild Rice Soup – Pulled turkey, wild rice & kale simmered with carrots, onions, & celery in a creamy turkey stock.
Pumpkin CroisBun - The famous CroisBun with a new and improved sweet pumpkin filling.
Pumpkin Sweet Cheese Muffin - A pumpkin muffin filled with sweet cheese and topped with cinnamon sugar.
Pumpkin Coffee Cake - A mini Bundt cake with the rich flavor of pumpkin and spice.
9-Grain Cranberry Ciabatta - Available with Reduced Fat Philadelphia® Cream Cheese.
Hot or Iced Pumpkin Pie Latte - Au Bon Pain's newest drink flavor features a rich espresso, blended with pumpkin spice, topped with frothed milk and cinnamon. $1.99 for a medium and $2.50 for a large.
Vidalia Coleslaw Petit Plate - Shredded red and green cabbage, carrots, and scallions in a Vidalia dressing.
For more information on the new menu or to find an Au Bon Pain café location near you, visit: http://www.aubonpain.com.
About Au Bon Pain
Founded in 1978, Au Bon Pain ("the place of good bread") has grown into an internationally recognized leader in the fast-casual restaurant category. The chain's signature items—sandwiches, breads, pastries, salads, soups and coffee—are served in welcoming café environments emphasizing quick service and hospitality. Au Bon Pain offers consumers a wide array of delicious, nutritional foods, and over the past three years has earned Health magazine's designation as one of America's Top 5 Healthiest Restaurant Chains and was recently voted the #1 healthiest restaurant chain by Grellin.
Au Bon Pain operates in six key trade channels including urban office buildings, hospitals, universities, transportation centers, malls and museums, with locations ranging from 300-square-foot satellites to 6,500-square-foot cafés with 100-plus seats. Au Bon Pain currently operates in more than 310 locations in the U.S. and internationally. Additional information about Au Bon Pain, which is headquartered in Boston, may be found at http://www.aubonpain.com