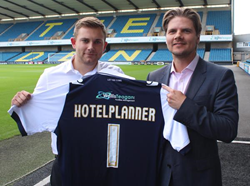 As proud new sponsors of Millwall FC, HotelPlanner is looking forward to supporting the players, the fans and the community with discount travel deals and free hotel room giveaways
West Palm Beach, FL (PRWEB) August 31, 2015
HotelPlanner.com has become the official preferred online travel and digital partner for the Millwall Football Club for the next three seasons.
The agreement will see the club work closely with the leading global online travel experts on a variety of travel solution and digital opportunities, while HotelPlanner.com will also take over the management of the first team's accommodation requirements between now and the end of the 2017/18 campaign.
In addition, the company - through a dedicated link on millwallfc.co.uk and regular online newsletters - will also be available for fans and partners of the club to take advantage of offers on hotel accommodation, not only for away games, but also when travelling on holidays, for business, family celebrations or any other reason.
The club itself will benefit via a revenue share rewards programme that will see fans and partners furthering their support of Millwall whilst receiving the best possible travel solutions in the process.
The digital partnership will also see Millwall and HotelPlanner.com working together over the course of the agreement to run social media campaigns across the club's Facebook, Twitter and Google+ accounts for money-can't-buy prizes, hotel vouchers, charitable initiatives and other great experiences, which will help supporters enjoy a vast list of benefits from the new relationship.
Tim Hentschel, Co-Founder & CEO of HotelPlanner.com, welcomed the partnership, saying: "As proud new sponsors of Millwall FC, HotelPlanner is looking forward to supporting the players, the fans and the community with discount travel deals and free hotel room giveaways."
Billy Taylor, Millwall's Head of Media, added: "We are excited to be announcing what the club believes will be an enormously beneficial partnership for the next three years.
"HotelPlanner have expressed an eagerness to engage with our loyal fan base and we are confident that Lions supporters will have plenty of opportunities to take advantage of offers, competitions and more that the company will promote."
For more information, please contact Bruce Rosenberg at (818) 661-0244 or at Bruce(dot)Rosenberg(at)hotelplanner(dot)com.