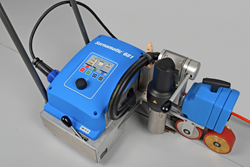 CANTON, MA (PRWEB) September 01, 2015
Sika Roofing is pleased to announce the release of its new Sarnamatic® 681 hot-air welder, which will give Sika authorized applicators the most reliable and user-friendly seam welder to date. Combining safety, reliability, application efficiency and an easy-to-use interface, the Sarnamatic 681 is in a class of its own.
Sika is the only membrane manufacturer that designs its own hot-air welding machines, and the Sarnamatic line has a proven history dating back to 1978. Thanks to the latest technology, more efficiency on the jobsite can be achieved with the Sarnamatic 681. Consistent with the Sika brand and Swiss values, it was also designed with the highest quality standards.
A 4.3-inch color display makes it easy to read on bright days, differentiating the new Sarnamatic 681 from other hot-air welding machines on the market. It has adjustable wheels for welding on and along parapet walls, and the increased welding speed of up to 26.2 feet per minute – with an adjustable welding temperature of 212-1148°F – will increase contractor productivity.
Users are able to easily replace parts on the outside of the machine, such as the pressure wheel, silicone rubber ring, heating element and nozzle, while the brushless and maintenance-free air blower improves life expectancy and reduces cost. The repair and maintenance process is also improved by using common electronics and components.
To further enhance productivity, the Sarnamatic 681 comes programmed with predefined welding parameters of the most commonly used thermoplastic roofing and waterproofing membranes supplied from Sika – it can easily be programmed for other thermoplastic roofing and waterproofing membranes as well. The Sarnamatic 681 also starts up quicker and requires less user training than previous Sarnamatic models.
SIKA AG CORPORATE PROFILE
Sika AG, located in Baar, Switzerland, is a globally active specialty chemicals company. Sika supplies the building and construction industry as well as manufacturing industries (automotive, bus, truck, rail, solar and wind power plants, façades). Sika's product lines feature high‐quality concrete admixtures, specialty mortars, sealants and adhesives, damping and reinforcing materials, structural strengthening systems, industrial flooring, as well as roofing and waterproofing systems. Worldwide local presence in 80 countries and more than 16,895 employees link customers directly to Sika and guarantee the success of all partners. Sika generated annual sales of CHF 5.57 billion in 2014. For more information about Sika Corporation in the U.S. including Canton, MA, visit http://usa.sarnafil.sika.com.