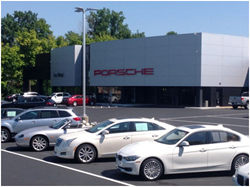 "In order to meet the needs of our growing customer base, we built an all-new, state of the art, energy efficient, updated facility," General Manager John Moses said. "We look forward to continuing to providing great service at our new location."
Indianapolis, IN (PRWEB) August 31, 2015
"In order to meet the needs of our growing customer base, we built an all-new, state of the art, energy efficient, updated facility," General Manager John Moses said. "We look forward to continuing to providing great service at our new location."
The new dealership will feature the following:

LED exterior and interior lighting to reduce energy consumption.
Energy efficient plumbing fixtures to reduce water consumption.
Continuous building insulation to improve the thermal quality of the wall construction.
Highly efficient mechanical system to help heat and cool the facility.
High speed automotive doors to help reduce air infiltration and reduce energy consumption.
Low-E windows to help limit temperature transfer from the exterior to the interior.
Occupancy sensors to help reduce lighting energy consumption when spaces are not occupied.
Automatic lighting controls to reduce energy consumption during off hours.
Schedule of events:

4:30 p.m. – 5:30 p.m.: Tour of facility
5:30 p.m.: Ribbon cutting ceremony
In attendance will be:

Jeff Wood: President, Tom Wood Automotive
James Brainard: Mayor, Carmel, IN
Reception is from 6-8 p.m. with live music by The Trio Vivo and catering provided by Sahm's.