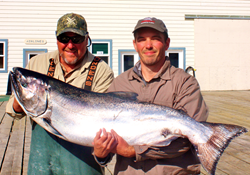 Ketchikan, Alaska (PRWEB) August 31, 2015
Huntington Beach, CA resident Ken Bridges has been crowned the winner of Waterfall Resort' s 27th annual King of Kings Salmon Tournament by reeling in an incredible 53.7 pound king salmon. This giant prize-winning Chinook was caught on June 26, during the peak of king salmon fishing season in Southeast Alaska. An exclusive fishing contest for guests of Waterfall Resort, both novice and avid anglers alike vied for the top spot during the 2015 season, from June 12 through August 14.
Five additional guests caught salmon weighing in over 50 pounds, including a 60.1 pound Chinook caught by guest Bill Tillet who did not enter the Tournament. Following daily fishing excursions, qualifying resort guests weighed-in their wild Alaska king salmon to determine who won "King of the Day." The biggest King of the Day wins the "King of Kings" title, and first prize. Tournament prizes included free trips to return to the Resort, merchandise from Cabela's Outdoor Retailer, international excursions with Princess Cruises, a Ford Truck and more.
Combine abundant king salmon fishing with the opportunity to land spectacular silver salmon (coho), halibut, lingcod, yelloweye and more than twenty other varieties of rockfish, and this season was one for the record books. In addition to action-packed sport fishing excursions, jaw-dropping wildlife sightings include humpback whales, orcas, sea otters, bald eagles, and more. Following a day of fishing, guests unwind and swap fishing tales at the Resort's own Lagoon Saloon, and experience freshly prepared hearty Alaska fare in the panoramic Dining Room with scenic views of the Ulloa Channel.
Waterfall Resort Alaska guests participated in the 2015 King of Kings Salmon Tournament as part of their stay for an additional entry fee of $95, which was valid for the full summer season.
The next King of Kings Tournament begins June 11, 2016. To book a stay and compete for the biggest catch next season, call 800-544-5125 or visit http://www.WaterfallResort.com.
About The Waterfall Group
Leaders in adventure hospitality management on land, on the water and in the air, The Waterfall Group delivers extraordinary outdoor lifestyle experiences featuring unique and scenic destinations, marine and aviation expertise, satisfying local cuisine, easy travel and warm, friendly customer service. Founded in 1980, The Waterfall Group markets, operates and supports multiple lines of business nationally from all-inclusive Alaska sport fishing lodges to sea plane tours in the Florida Keys.